Alexandria VA
December 8, 2004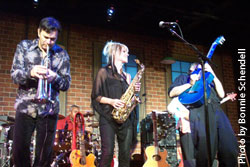 The Christmas season is upon us, and the music is in full force. Peter White began his Christmas tours a few years back, but this year was something special. Featuring Mindi Abair on sax and Rick Braun on trumpet, flugelhorn, bells, tambourine, and even an orange, this show offered some great holiday music as well as some of these artists' biggest hits.

For those who have never been to the Birchmere, it is a 500-seat, dinner theater style venue that allows the artists to get quite intimate with the crowd. And they did. All evening Peter, Rick and Mindi came out to the ends of the stage, out in the audience, and at one point, Peter was dancing with a 2-year old! The show began with Rick Braun's stirring rendition of "The Little Drummer Boy." Midway through the song, he was joined first by Peter, and then by Mindi. Then they went right into "The Christmas Song," with tremendous vocals provided by keyboardist, David Sparkman. The traditional tune "Greensleves" followed. The crowd was then treated to the amazing, but not overpowering, vocals of Mindi Abair on her own composition, "I Can't Wait For Christmas." Mindi described this song as her vibe of the holiday. Throughout this tune, Rick Braun played the reindeer bells and swayed with a blow-up snowman!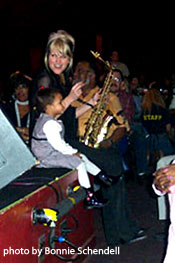 Next up was some of the best and newest music from these artists. Since all three of them have CDs out, it was a great time to showcase tracks from each. Rick's "Notorious," from his Sessions CD, got the crowd grooving and was the perfect lead-in to Peter White's "Talking About Love" from Confidential. Mindi Abair was up next with vocals and soprano sax on "Everytime" from her latest CD, Come As You Are. Back was Rick Braun with "Kisses in the Rain," and then Peter White with the kickin' tune, "Promenade."

Another round of holiday music began and included "Jingle Bells," "Winter Wonderland," and "White Christmas," which Peter proclaimed as HIS song… all about him! The crowd was then blessed by the voice of Rick Braun on "Have Yourself a Merry Little Christmas." Rick has done a little more singing these days, and the crowd seems to love it. Peter then broke out the ukulele for a medley of "Santa Claus is Coming to Town," "Frosty the Snowman," and "Rudolph the Red-Nosed Reindeer." The highlight was Peter's delicate and stirring playing of "Silent Night." No matter what holiday you celebrate, that song played by Peter, always send chills up your spine.

Breaking away from the solace of the seasonal songs, Mindi then got into funk mode with "Flirt," accompanied by young dancer, Joey, a longtime fan of hers. The uptempo mode was sustained with "Grazin' in the Grass," "Bueno Funk," "Lucy's," and the audience participation song "Use Me." The night ended with a wonderful cover of the John Lennon song "Happy Christmas," and then the vocals once again of David Sparkman on "O Holy Night." What also made the night special was the lengthy meet-and-greet following. Peter was his usual self with hugs and smiles. Rick worked the line, chatting and hugging everyone… even those at the bar, and Mindi was just having fun with the crowd.

This show was a terrific blend of beautiful holiday music, favorite tracks, and new music from each of these artists. Their personalities, talent, and humor gave a great start to the season of joy and love. If you didn't get a chance to see them this year, make the effort to get on board with next year's tour.
Bonnie Schendell