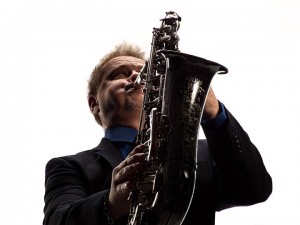 Some people are flat out fun to talk to. Euge Groove is one of them. Smart, articulate, thoughtful and you can feel the warmth and positivity all the way across the country. Oh, and..the guy's got chops. But you know that. Right after the release of his new album, Got to Be Groovin', and a few weeks before he hits my hometown for two shows we talked about the music, the creative process, the state of the biz, family, pets, vinyl, and how to save the world. At one point the dogs in these houses on opposite sides of the country started barking simultaneously as delivery trucks pulled up at both our houses and that set off a conversation about dogs and cats that you can hear here, and we talked about records – those 12" things with grooves in and on them and turntables – the things you play them on. One of his first hits was called "Vinyl" and a vinyl release of this album is coming soon so he talks about that here. And of course there's the music itself.
SV: This is your ninth album, you're a real survivor now.
EG:  I am. I go into it with much anxiety and I come out of it with a great sense of relief and joy and high and pleasure. It's a tough process and each one is harder and harder to get into.  I think a lot of the anxiety is that the better received the previous album is, the higher the mark for me to try to at least match and improve on. I spend a lot of time on the writing, a lot of effort.  The system that keeps working for me is that I shut out the world during the writing process. I lock myself in the room and only come out when I absolutely have to. I try not to have any outside influences and just dig deep and write.
SV: You just block it out and the music comes?
EG: I kind of build off of previous albums. I try to anyway. I listen to tons of music before the writing process but when I get into the writing process I try not to because I don't want to copy somebody else. If I've listened to something it could be in my head and be reflected in the next song the next day so I try not to have outside musical influences in that respect. The one that didn't fit to that guide was the James Brown thing – the title cut "Got To Be Groovin'." I went to bed listening to a James Brown compilation album that had about 30 songs on it and I woke up with that drum groove going in my head and wrote that song.
SV: The first time I heard that song when that sneaky little riff from "I Feel Good" came on at the end there was this moment of recognition. Like.."hit me, yoww !!"
EG: Yeah. The song was paying homage to him and his music is the inspiration for the song but chordally and melodically there isn't really much of a correlation. It's in the drum groove where that snare drum is kind of turned around and the energy of the drums.  Stuff like that is kind of a James Brown thing.  That sax line at the end ties it in. People hear it and go "oh, I get where this came from." The guitars are all different. I had this freight train idea in there. You almost hear a train horn in the guitar playing in the hooks of that. Put on some really good headphones or turn it up loud and heck that out next time.
SV: There is some real diversity in terms of songwriting on this album and I have to say that two of the most fun, catchy songs are the ones you wrote about your wife and your daughter. They have so much of a spirit to them that it feels like the listener is meeting them through the music.
EG: Yeah, it just nailed their personalities. It was really easy to title the songs afterwards. It's funny because I've been performing "Miss Bane" live and when I introduce it I think people are expecting the usually romantic love ballad. This is a song for the woman I love but this is her personality all day long.  The song came out of her scolding me in the studio one time. She just really got on me for paying more attention to my inner child than my adult being (laughs.)  That child is where I have to go to do all the writing and she was just leveling me for neglecting the things that an adult should be doing in life. She left the room and I had a big smile on my face instead of being angry because she was right. I got it, and I sat down and wrote that song.
SV: Then there's the joyous "Lila Belle" song. I remember when she was a little girl in some family pix you posted and now she's grown. I was listening to an interview you did with Pat Prescott and you said she has pink hair. A true millennial girl.
EG: Yeah, she does have pink hair right now. Sometimes she goes lavender but right now she's in the pink thing. She's just a character.  She has been her own independent "say what you want about me I don't care, I like who I am" girl. She's done independent study all through high school. She didn't like the cattiness that goes on in that scene and our county has an excellent online home school program so she is here with me all day. She's  in her senior year but she going to have all the credits she needs to graduate at the end of this semester and she is already taking a class at the city college that will give her college credits. She had two jobs for a while, now she is working one. I am just super proud of her and that song is her personality. Everything is positive and good with her. We're a couple of knuckleheads when we are together. I'm her dad but we are best friends too.
SV: Role model girl! Role model dad and mom for giving her the support to be find herself and be proud of who she is.
EG: I believe you lead by example, give solid advice and you don't preach. You instill in them  a strong sense of self and self respect and the ability to see and know what is right or wrong. That doesn't mean that raising teenagers isn't difficult. But you give them that foundation then you don't have to be constantly be saying things like 'that boy is not good for you' or 'you can't go to that all night party' because they know the reason and most times they don't even want to.
SV: You have a lot of incredible musicians that have been on your albums over the years but there is a stunning core group that you play with a lot and they are really present here. Tracy Carter's piano intro on "Rain Down on Me" is so gorgeous and, yeah, healing to listen to. Where did that come from?
EG: That comes out of the Gospel camp. I listen to a lot of Praise and Gospel music. You need a cleansing from God, you need the spirit to rain down on you. That was me – the way I felt towards the end of this writing process.  You can't really check out of the world. It's the whole yin/yang thing. You can put out positive energy and have positive things come back but if you just sit there and don't do any energy are aren't feeling any that's not a good thing. I needed a cleansing and that's where that came from.  The powerful melody and the power in that melody, all of that is heartfelt. When I'm playing it that's what's going through my mind. I need a cleansing, we all need a cleansing. I had written this long piano intro and played it myself. I had an outline of it that I gave Tracy. He asked me if I wanted that much piano in the front of the song and I said yes, this is your thing, do it. Tracy is Tracy.
SV: It rained down on him.
EG: It did. He is incredible. The funny thing is that I was apprehensive about putting it as one cut on the album.  I could have put a little marker between that and the meat of the song and made it a separate track but it has worked out good this way.  People are telling me it's their favorite song on the album. That has taken me by surprise and I am glad that people relate to it.
SV: I think one reason people are getting into it is because you can feel it in a way you can't necessarily verbalize but it feels good.
EG: Yeah, it's intimate, he's baring his soul in there, there isn't any extra stuff going on and then you add Peter White and you can't go wrong.
SV: "Tango in Tio" is a nice step out of the box too. It's got that tango spirit, you can even do the dance to it.
EG: That's one of my favorite cuts on the album sonically speaking, mix wise, arrangement wise. For all the technical reasons it was a blast to cut. I'll never forget Lenny Castro being here in my studio and watching him solidify that groove. There are congas on one side and bongos on the other side, you can really hear it if you listen with headphones. It felt so good after he played on it. Tio is actually just a fancy way of saying "T.O." which is short for Thousand Oaks, which is where I live. The musicians that played on it live in Thousand Oaks so it became "Tango in Tio."
SV: Now we know!  Speaking of Thousand Oaks you got together with some old homies and did one with Paul Brown.
EG: Yeah, "Homie Grown," I wrote that song wanting Paul to come in and play on it. Lenny Castro lives a few blocks away too. There are a lot of guys who live out here.
SV: Jeff Caruthers was on that track, Tim Heintz who I haven't heard much from in a while was too. EG: Tim lives so close I can almost throw a rock and hit his house. His part came really at the last minute. I was close to the end of recording and putting in the track on my B3 and started thinking it needed a real B3 player, not a sax player trying to play B3.  I called up Tim and caught him just before he was going to do something and he came over and did the part. From start to end it took less than an hour. It's so cool to have musicians like that who are so close because once you have the inspiration you can act on it and see it through. A lot of times you get an inspiration, not just in music but in life, and you see it through in your mind but you don't do it in reality. It seems like you kind of had the satisfaction of seeing it through in your mind so the drive to get it to the next level in reality can be diminished. A lot of times with inspiration you have to catch it in the moment and I'm glad I was able to do that with this song.
SV: How did you end up with Althea Rene on flute on "Forever and A Day."
EG: I've been a huge fan of hers. She was in a festival I played a few years ago and she just tore it up. She has this energy and intensity, which is no small task when you are playing flute. I wanted to write something for her, something I could play with her. I asked her if she would be into doing something and she was so I wrote the hook of the song with her in mind.
SV: Lets talk about your vocalists. You hit left field and brought in somebody who is really familiar to anyone who is into Christian jams but not a big name outside that realm. How did you get Chanel Haynes-Schwartz from Trin-i-tee 5:7 on that song?
EG: That was pure serendipity. I was a big fan of hers but I hadn't really thought of her for a song. My wife was at a party at her sister's house and after the party they were cleaning up and she hears this beautiful voice coming from the living room. It was Chanel sitting at the piano singing. Chanel had just married my wife's sister's husband's best friend and they were there together.
SV: I think I need a graph to follow that.
EG: My sister in law's husband's best friend is her husband. It turns out she was going to be in California for a few months visiting family and doing some work. We went into the studio and crafted out the words and the melody to the song. She sang it over the course of several visits. She's an amazing, ridiculous singer. She starts out with this Toni Braxton thing then she's screaming Tina Turner licks in the chorus. And she is just the sweetest person. It's important to me to be around people and feel that positive energy and she's definitely one of those.
SV: You took a song that has been around forever, gotten played to the point of burnout in radio formats and sound systems in stores and restaurants, and you made it sound fresh and new. Good call getting Elliot Yamin. He made it sound like a new song.
EG:  He's is just the nicest guy and I was a big fan of his from when he was on "Idol." I watched that entire season and I remember telling my wife that he was too good to win it. I think he made it to the top 5. Back then we tried to get him to do another song but that didn't work out, he was strictly on a pop track at the time. I actually met him at a Rick Braun session and he was open to doing some vocals on smooth jazz albums. We both loved the New Birth version of the song but I felt like we needed to take out the acid trip part of it (laughs.)  I got this idea to do an intimate version of it where he is up front, then the sax solo comes in and the orchestration gets huge then he comes back in and we get back to the intimacy of  his vocal and that's how the track turned out.
SV: When I heard those two songs with your solos in the middle I started thinking about how much I miss the sax solos in pop music. In the 80's and early 90's so many of the big pop songs had a sax solo that just grabbed you.  I think of you on the Expose hits, Andy Snitzer on "Waiting for a Star to Fall," Paul Taylor with Dino, and of course Kirk Whalum on Whitney's "I Will Always Love You."
EG: I grew up with that. Musically, I'm a child of the 80s that was a highlight for me. Both of these songs are like 80s pop songs for me. So was  "It's Only Rain" from the last album. I get this feeling like I've got my 80's sax solo chops back (laughs). That's what I was going for. As a listener it always bothered me to hear a vocal on a smooth jazz album that didn't fit in with the rest of the album, the ones that sound like a complete change of format in the middle of the album.  A big goal for me in the production and writing process was that I wanted these songs to fit in with the rest of the album. I wanted them to sound like they could hold their own as instrumentals too.
SV: When you settle into this process of holing up and writing the material do you ever just freeze. Like the ideas just don't come.
EG: Oh yeah, without a doubt. There are times when I will have a part of a song then just not be able to come up with another part. Like I will have the grooves laid down and not be able to come up with a melody that I like. I will come up with something and just not like the way it works and I will work through it for days. I could get away from it then come back but I'm one of those guys who just sit there and push through it. Leaving it doesn't work for me. I can't relax until it's done.  Some of them just kill me to push through, too. The first track on the album, "Forever and a Day," was like that.  The melody on it kicked my butt. I was literally trying every note to come up with something interesting and it took a while. I kept pushing through and there it is. I went through so much on that song arrangement-wise. I tried so many different things, different bass sounds, different synth sounds. I think I have a hundred different takes of that song.
SV: That sounds like back in the classic rock days when Tom Scholz of Boston was legendary for spending months on a track and years on a song.
EG:  Well, not quite that bad. I do listen to music with good headphones and I will sit and analyze and try to pick out reverbs and techniques other guys are using because I am a total audio nerd. That's the stuff that excites me and after the writing process is over and I get into the. This time I went extra long. I did an HD master and also we are going to come out with vinyl. My kids got me back into it. They started buying albums before they even had a turntable. I got them one and it sounds great and it's a lot of fun so I decided to put this one out with real grooves on it.
SV: And there are some real grooves in this album whatever way you decide to own it. You've got songs that came out of inspiration from your wife yelling at you, James Brown playing you to sleep, perfectionistic studio tweaking, musicians you wanted to work with, neighbors hanging out and playing together…
EG: ..or my daughter coming in and being charming and playful, or times when you have to really look up to God and say please come down and cleanse me cause I need to get back on track.
SV: And I think that says it all! Thank you for the killer music, the conversation, and the energy and inspiration you bring when you play.
Euge Groove's website is www.eugegroove.com
here's a very cool video for "Got To Be Groovin'" with some clips of the man himself, James Brown, doin' his thing: