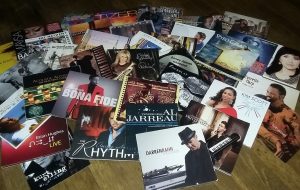 It started with stations called The Breeze and The Wave. Streaming is the new way to hear music so welcome to The STREAM.
You asked for more real smooth jazz from both old favorites and rising stars, more contemporary jazz vocals, more original music, a brighter upbeat music mix and less pop oldie crossovers and elevator music covers. You told us you wanted to discover new artists and learn more about them. That's what we do, that's why we're here. We're not staying safe and in the background. Corporate radio is about fear of music and protecting you from anything that might be innovative or different. We are coming from love of music and the joy of discovering and sharing music. It's totally different. We want you to hear that and feel it. It's the new sound of smooth – The STREAM.
The goal is to bring back the original spirit of the contemporary jazz format with a 21st century spin. It was exciting. It was new music by adults for adults. We didn't have to age into the easy listening music our parents enjoyed or get stuck in the past only listening to the songs we grew up with. There was Contemporary Jazz, there was New Age, all kinds of World Music, so much to explore and enjoy. And then…..
Then the Telcom act of 1995 passed. It removed most of the limitations on how many stations a company could own in a specific market and overall. Then corporations and hedge funds bought all the stations. Local air personalities, program and music directors and research departments were eliminated and control shifted to the corporate home office. The focus on music programming went from love of music and the joy of sharing music to fear of music. "Safe" and "familiar" became the bywords for all formats.
This hit the emerging contemporary jazz and progressive Adult Contemporary stations hard. A consulting company came up with the concept of using the softer side of the music to create a background music service similar to the old easy listening instrumental stations. It would sound more contemporary than the heavily orchestrated "elevator music" format and sax would replace strings as the lead instrument. It would be pleasant, soothing and unobtrusive just like its predecessor. Owners who had suddenly gained groups of 5 or more staitions in a given market jumped on it. The music seemed to be gaining popularity. it would get played in waiting rooms and some businesses, and it wouldn'tcompete with any of the other stations in the group.
A lot of elements of contemporary jazz didn't fit though. They had to be eliminated. Uptempo songs, long songs, instrumental soloing, funky loud horn sections, electric guitars, world music influences, generally anything that might be "too exciting" had to go. Adult contemporary and pop vocals replaced the jazzier vocals to make the station sound more confortable to people who didn't think they liked "Jazz." As the format shifted to more and more pop songs and instrumental covers of pop songs listeners started to lose interest and ratings dropped. It was blamed on the music. The belief was that isteners simply didn't like smooth jazz anymore. Actually stations weren't playing that much original smooth jazz. By the early 2000s you were more likely to hear the Eagles, Doobie Brothers,Fergie, a Motown oldie or a cover version of some song from the 1970s than you were to hear the original instrumentals that drew people to the format in the first place.
The relaxing background music approach peaked in the late 90s. Many of the broadcast and internet stations still approach the music from that perspective but there are more and more indie online stations, podcasts, and playlists that are expanding the horizon. We know you have a musically adventurous spirit. That's what attracted you to smooth/contemporary jazz in the first place. You're busy living your life and when you're adulting there's not much time to search for and discover new music. That doesn't mean you have to settle for less. Finding and sharing the music is our job – we have the resources and the time to dig in. All you have to do is tune in and enjoy.