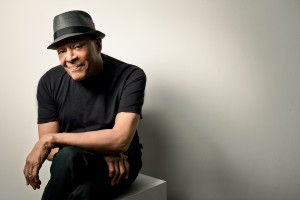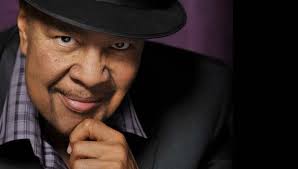 There is a spirit inside Al Jarreau's latest album, "My Old Friend: Celebrating George Duke " that shows up with every note created by Jarreau and the gifted group of artists who joined him. When you listen you can feel it in spaces you can't nail down with words. Al Jarreau is as eloquent when he speaks as he is when he writes. Although the printed page can't convey the all the nuances of a conversation that delves deeply into the process of creating something magical, the writer/fan and the artist came into this conversation with that intent. This album has been at the top or near the top of the jazz charts for months and recently won Jazz Album of the Year at the NAACP Image Awards. A lot of you already own it. If you don't, you should. My hope is that this will bring you closer to these songs and add depth to your enjoyment of the music. There are a few digressions, some moments of silliness, and some rants. That's what makes us human and that's what makes it fun. Enjoy!
SV: Lets begin at the obvious place. How did this all start?
AJ : In a similar way to the way that the George Benson project started. I signed a deal with Concord to do two solo projects after I did the project with George Benson. I had been working on a new record and I have a bunch of new songs that are my own and other people's writing which could still make their way on to my next record, but there I was still considering what I should do. John Burk, who produced the record I did with George Benson, was also doing a lot of thinking about it. In the meantime we lose our friend George. John must have had a dream because the next time we sat down to talk he asked the question of whether we should be doing a George Duke tribute. I almost leaped out of my chair. I knew what I had to do next and it was doing something for George.
SV: If anyone had to do it, it was you because the two of you have such a history both together and apart, and you intersected so deeply both at the beginning and at the end. So somebody else who knew looked you in the eye and put it on the table.
AJ: Absolutely. I didn't know what I was going to do or how we were going to do it but all that crossed my mind was "let's go!"  I knew George longer than the priest who baptized him (laughs.) It wasn't a priest, it was a preacher and I didn't know him quite that long but I like the sound of that. That's how long I feel like I knew him. I did know him back when his mama would tell us we had to get him straight home after a Saturday night show so he could get up early and play in church on Sunday. We were playing at a club called the Half Note in San Francisco in the mid sixties. We did that for around three years. After the Half Note he went into more fusion, working with Frank Zappa, and I was doing jazz with a guitar player. We found ourselves crossing paths and working together through the years. We worked on "Roof Garden" together right when he was getting deep into his funk period, and that song has been very important to me. We did the Eddie Harris song, "Compared to What" together – that was a highlight. Then a few years ago we decided to go back to our first connection and start doing trio dates again.
SV: He could go from hard fusion to hard funk to pop R&B to church to classical to Brazilian seamlessly. He did it all.
AJ: Yeah, seamlessly, and he would be one of the important masters of any genre he touched. The lesson is there in the way he managed to do that. He said don't limit yourself to any one or two things. Enjoy it all. Breathe it in and love the stuff that you love. If it's under your fingers or in your throat go and find it. Do the best with it that you know how, and let it become a part of who you are and what you do. No limitations!
SV: On this album I felt like you were digging into yourself as a singer and writer without any of that stuff that shows up in the back of artist's minds about trying to please radio, play to pop culture, prove that longevity is a good thing, or any of those other second-guessy type things that are hard to back away from in this crazy industry climate. This was just you.
AJ: Well thank you George again. There is a maturity and wisdom in George's work. It opens your mind to that way of performing and thinking and expression that you might not get to in your own writing. I wasn't going to write "Someday" but I can sing "Someday." That kind of orchestration and tempo – the medium of swing. I love it! That was a seminar at Duke University and I get to go there every time I do this song.
SV: How did it come to be Stanley, Marcus and Boney as producers?
AJ: Marcus was an obvious because of the work that he had done with me on stage and in the studio, and the work he did with Miles. When I put my finger on "Backyard Ritual" it became obvious that we ought to call Marcus about that and see what it led to. Marcus loved Miles, and George loved Miles and I loved Miles. It's this around the dinner table love that we shared and that was special. The best singer I know was Miles Davis (laughs) his voice was in every note he played. So it had to be Marcus. Boney and I have shared the stage so often over the years. I look at Boney and see what happens between him and the people in the audience. He just walks out into the crowd. That's this thing of taking the music to the people and giving them a "right now" experience that they cannot get when they listen at home. When you get people who can do that you can get a little bit of that feeling on the record too. We went in search of some of that attitude that he is a master at expressing for those two pieces of music. Beyond that, he could touch those songs in a way that would bring this music to his audience. That's a sweet audience, that audience of R&B lovers who have been lost to a lot of jazz musicians.
SV: And Stanley..
AJ: That was so obvious a call to make. That was the call to make in the same breath as you call Dianne Reeves. These are people who are closer than cousins to George. Dianne is his cousin! And when we called they cleared their calendar and said "You tell me when. I don't just want to produce one song, I want to produce these songs." That's the sky opening up and the Universe saying yes to the project. You know God is saying yes to the project when Stanley Clarke offers to be that involved. You go for it and you figure out the details after that (laughs.) So that's kind of how it worked.
SV: He had specific songs in mind?
AJ: Some. He said this is what I want to do about a few songs. Then he and I started looking at lists of songs where we felt like George and I intersected. Some were obvious like "Brazilian Love Affair" There's another one, the "Summer Breezin" song that was such a tribute to Jobim and Gilberto and that whole genre of soft bossa samba songs that nobody plays anymore. It didn't have a lyric so that gave me a chance to write what George and I felt about that music. "Lord I want some bossa samba, I want a soft samba sound, I want to hear the kind of song they don't play anymore." It was an opportunity to bring that piece out and shine some light on it and that lyric became "Somebossa" on the album. Folks don't know that George wrote like that.
SV: It had to be hard to just dig in and start thinking about picking out the songs.
AJ: I listened for a long time. I listened to everything I could get my hands on. There was stuff I couldn't get my hands on but people kept bringing me more, too. It was overwhelming. There was already so  much to choose from, then they would bring me more! George's spirit wasn't going to leave me alone. Just getting it down to a manageable group of songs was a scary task to face.  Some songs just eliminated themselves right away because we knew we wanted to take a certain direction. There are so many things from the kind of "Soul Train disco hit list" where George could sing like Phillip Bailey or Eddie Kendricks or Smokey Robinson, the kind of thing a Jeffrey Osborne or Robin Thicke can fly off  into the "sopranosphere" with, which is not really my voice. There are some other places that are a lot more important for me to cover when it comes to our musical relationship. So it was a matter of finding the songs that took us to that place.
SV: I love it that you didn't take a "play the hits" approach and do a cover album of his most well known commercial stuff. You covered everything from a song he did on a Miles Davis album, which is so left field I don't think anyone but you could have zoned in on it and and turned into a lyric. Then there's "Came out of the Sea.." and "You Touch My Brain" and "No Rhyme. No Reason" which is an anthem.  Then you reinvented "Sweet Baby." You hit all the stops. How do you look at this body of work that was so diverse and cull it down to the essence of who someone is and what they did?
AJ: How do you? (if you could see someone shaking their head over the phone I'm sure he was) It's the first installment. I can't tell you what places doing this record has taken me inside of me, to rediscover me again. It makes me grin and makes my eyes roll back in my skull with joy. A new sense of me…you know, to have been there where George took me. Wow. To open up my writing like it did. Just a couple of lyrics here and there but very important things to say.
SV: And lyrics are hard. It's really easy to come up with words but to come up with words that don't fall back on cliches, go for the easiest rhyme scheme or go all Hallmark-y takes it to a whole other level. Especially when you are putting lyrics to iconic songs.
AJ: "Backyard Ritual." How do you decide that deep, dark, bluesed, blue Miles was really a spiritual person? It's so easy to go over there and write about the dark side. Even with all of that attitude that he gave, you can't play horn like homeboy played and not have God in your heart, not be expressing God through your horn. So there is "Backyard Ritual": Miles pacing in the backyard late at night feeling that thing he may not be able to name, but it is there.
SV:  That is the second song from the Tutu album you've done lyrics for (note: he did lyrics for the title track, "Tutu," on the George Benson collaboration "Giving It Up.)" That was a really fresh, pivotal album for Miles when he did it. It was another example of him stepping into different, new territory.
AJ: And that work came out of the hearts and minds of new young people like George and Marcus. Miles had this openness that led him to listen to these new voices that took him in so many directions. God bless Miles for that kind of openness. It pulled him into an area of new music where he felt a connection and brought an audience to that music.
SV: He was the one who crossed a lot of us from prog rock to instrumental music. Him, George Duke and Billy Cobham, John McLaughlin and Herbie Hancock who were on the Bitches Brew album. We used to call ourselves "Bitches Brew babies." The academic jazz community had no love for us and the smooth thing had no place for us.
AJ:(takes the floor back after my  mini-rant) All of those guys! They gave that music a shot in the arm.
SV: And pissed off the purists.
AJ: It got lots of boos and hisses from other corners but it made such an important statement for the world. Following it and getting involved with Marcus and George and asking these new young giants like those two and Paulinho Da Costa and Omar Hakim to contribute to the Tutu album was just brilliant. So for me, little me from Milwaukee to be able to reach out and touch my Miles inside of me when I did the lyric to "Tutu" was just joyous! That connection got served so well again in doing that "Backyard Ritual" piece. You make the decision and it has its own mind and eyes and pretty soon you are looking at other pieces of material that make sense.
SV: It looks like a lot of the musicians you used for these sessions were not people who played on many of George's sessions.
AJ:. That was part of the mystery too. That's such a temptation to recreate the bands and the original sessions when you are working on a tribute.We didn't want this record to turn into a contemporary restatement of what those guys played then so we wanted different people to come play. There are some great other players who have something to say about a given piece of music and bring new aspects of it to light. So we have John Robinson playing drums. Wow. And a great guitar player named Jubu. We have all these people recognizing George's work and going "check this out, this is how you handle that today." That was the process.
SV: How did the concept of using other vocalists come about?
AJ:  When we were choosing the songs ideas started coming to us about different voices and what they could bring to the songs. Jeffrey was an obvious. When I talked to Stanley that was one of the names flew out of his mouth The Osborne connection started us on a search for more singers to fill in these songs. We were looking for some great other voices that would make this music really live in a way that people have not heard it before. That was the thing – to open up to the whole range of possibilities then hone it down from there. We found people who are familiar with those pieces of music and have a notion of what they would like to say today. Once that opened up we were off and running and things started coming into place. We found voices that would fit so well with a new version of some well loved material and take it in a different direction. Kelly Price's name came up when I started talking with Boney about producing "No Rhyme, No Reason." We wanted to show this other kind of down home bluesy side of George that was "You Touch My Brain" and when you think of a voice that can do that like nobody else it's Dr. John.
SV: Dianne Reeves was another obvious choice.
AJ: And a new friendship is born. We should have worked together a long time ago. That's a connection that needs exploring and I believe we just touched that with this meeting. If I'm smart, you'll hear more from me with her in the future. You can run your finger down the list of other guests that are new chapters for me to get into and explore. That's the essence of this project in a way. It opened up new doors and new mediums of the art for me to work in – different colors of oils and pastels that I've just touched on. There's the song "Someday" that Marcus produced. That writing! It's just so rich with big band tradition. It's all over the chord progressions and the unexpected turns it takes in the writing that show shades of Ellington and Basie. This is the stuff that I love and enjoy so much. I touched the surface with the Metropole album but I have promised myself that I would go deeper. A lot of George's fans don't even know he touched that place, and that door got opened a little more for me with this album and for the listener when they hear it.
SV: Then we jump from that to "Brazilian Love Affair" and "Up From the Sea It Arose and Ate Rio In One Swift Bite," two songs from that classic album with the amazing percussion jam in the middle. I love the transition in that song. What's so cool about your version is that you realize the vocalists are singing those words. That wasn't on the original.  You think it's just this nice breezy samba vocal chorus then you listen to the words and it's sci-fi monster flick.
AJ:. A lot of people don't know that piece and that's the opportunity it gave, to shine a little light another song that people don't know yet and will maybe go and find. He had such a sense of humor!  And he was willing to go to the crazy side just like he was willing to go to the funky side. All of that shows up in his music. Songs like that one or (goes into raspy voice) "You Touch My Brain." After they hear Dr. John sing it, I'm hoping they will go find the original. Dr. John just nailed that one. When we were looking at that song a voice just out of the clouds said "Dr. John, Al. Dr. John!" Who else could sing it like that?
SV: Nobody on this planet. The Deja Vu album didn't get a lot of love commercially. You dug in and came up with that gem and "You Bring Me Joy." And on the other side you brought new life to "Sweet Baby" which has been so overplayed on the radio for so long that it's easy to just kinda glaze over when you hear it.
AJ: There were 'anthem songs' that we had to do for ourselves and for the listener. We wanted to find a way to do them that had the spirit of the original but brought in our sensitivities and a new fresh approach. My appreciation for that song, "Sweet Baby," has really grown. (Vocalist) Patrick Lundquist and I were driving through the canyon right after we had a meeting with John Burk and we were coming up with vocal ideas that would bring something new. We had been talking about the song and I was hearing that sitar line in the front. This line came to mind – "when you write about your life I hope I played a part, pressed between the pages of your heart." It just fit. It was a new feeling, new information for this song that will make people who know it do a double take and wonder where it came from. They would be right when they say it's not in the version they know.  It's me taking liberties again (laughs.) And I can't say enough about Patrick's contributions, his vocals, his ideas. He's young,  he's got a gift and he was right in there with all these seasoned veteran musicians. I think it surprised everybody a little bit.
SV: This version lit it up and turned it into a 2014 ballad, so there you go.
AJ: And Lalah's voice is so rich and unpretensious. She just nailed it real good
SV: It feels like a lot of people got out of their safety zones on this album. Boney always said John Klemmer's Touch album was a big influence on him and he has that tone on "You Bring Me Joy."Gerald Albright's solo on "Summer Breezin," is so unaffected and just a set of perfect notes.
AJ: Stan Getz is up there with George just yelling "somebody got it!" Gerald got it! Boney got it! It's that  music we were playing that makes people want to dig in and take chances.
SV: It says in the liner notes that Boney led you to Kelly Price. The two of you turned "No Rhyme No Reason" into a conversation between two people who are going through what the song is about. It's like a mini-movie with no pictures.
AJ: I learned some stuff from her! She's just a baby (laughs) and she sings with such maturity. She gets to the heart of the song.
SV: An old soul comin' round in a younger body. It happens that way. The brilliance of that song is that it came down to the essence of something a lot of other people wrote songs about but George got to the bare bones of it, and your version really put that upfront.
AJ: It gives people a new opportunity to hear that. And it's a different approach because George's version focuses on the keyboard playing and the sound of the song. The foreground voices are mixed deep into the background voices. I wanted to lean into the lyric to make it more audible so people could get the message. What a song! There is a maturity and a reality there that defies courage. Nobody has the courage to say those kinds of things. George did, and that's wonderful deep stuff for people to be able to hear.
SV: You did get Jeffrey to do that thing you so brilliantly called the "sopranosphere" beautifully on one of the songs.
AJ: We thought he would be perfect for "Every Reason To Smile." My goodness, what a great piece of music!  While we had him could we make "On The Wings Of Love" happen because George was on that record. We could. We found a way to keep the focus on George's song and add just a suggestion of Jeffrey's hit that would make people smile when they recognized it.
SV: On the promotional video it looked like you were all having such a grand time in the studio.
AJ:  It was amazing!
SV: What is it like to be in the middle of this melting pot of amazing artists.
AJ: It makes you real self conscious. (laughs.) I can see me being very self conscious right now because it happened. I can see me in there with these brilliant players and trying some new music and new approaches to singing it. They were with me and the music all the way – always coming up with ideas, new ways to hear the music and play it and they pushed me to sing in ways I haven't tried before. They came up with ideas I hadn't even thought about!
SV: How?
AJ: As I think back in observation it happened in such automatic kinds of ways. When Marcus Miller plays you get a sense of some stuff that is really quite urgent and important about how the bass player affects the singer as the bass player interacts with the drummer. Then you put yourself on top of that. Then Greg Phillinganes or Patrice Rushen are playing keyboards and you feel like you are playing with this heavenly choir orchestra. When you are playing with the best it nudges you and pushes you and makes you do things you haven't done in a while or maybe never. You feel that and it's scary if you got sense enough to be scared.
SV: How about taking it live at Capital Jazz Fest last summer right around the time the album came out. You were part of a live tribute there.
AJ:  Well, again, it was scary but that's how you step into the places you need to go. I had never perforrned either of those songs on stage with a band. We did a rehearsal but we had gone through those two pieces of material – "Someday" and "Summer Breezin" – about five times at the most. It calls on some other instincts in you that you hope you've developed over the years as a singer playing with different bands. You just open your ears and and follow your nose and…
SV: …trust your gut and dive in.
AJ: That's what jazz teaches. It teaches you to step out there into a new dark room nothingness kind of space and trust the players around you.  What a social experience it is to trust your family around you to support you while you reach out and within and become this new experience and experiment. Then you get back in there and you support the other guy while he goes out there during the moment that he's the leader. We practice that every night – this cooperative connection that happens when you play music together.
SV: And that's how you hold hands and step toward these edges that material like "You Touch My Brain" or songs about swamp monsters from Rio take you towards.
AJ: That is what George was all about, that was at the top of his Ten Commandments. Be open to music. Not a particular type of music. From BeBop to HipHop and everything in between and beyond. He wrote the Muir Woods Suite – that was a symphony – and he could turn around and write a funk song like "Reach For It." Take chances and be open to it all. That's the lesson to learn from George Duke's music.
SV: Are you going to be incorporating more of this music into your own live dates?
AJ: My typical approach is to not rush into a lot of new material because the audiences have their favorites and we want to give them those as well as enough new stuff to make it exciting. A lot of this music is going to be familiar to people so we are thinking that I can get to it in a quicker fashion that I would with most of the new albums I have done.  We're certainly going to do the "Roof Garden/Reach For It" medley and we are working on some others that will find their way in. I'm not rushing people to get a sense of who I am and my love for George but we had so much fun making this record and I can't wait to give my audiences a glimpse of that music and that feeling.
SV: I'm glad you were able to find a place for the song "My Old Friend ." There aren't enough songs about friendship out there so it's great to have it back as a piece of current music at this point in time. AJ: It wasn't written by George but that song said everything. It was the theme of the project, the spirit it brought into being. Thank you My Old Friend. Thank you to George again and again for all the things this album made happen.  It's all right there in the recording. That's Georges influence. That's George alive! That's George alive today! When you talk about someone living on, here it is. It's in my heart and the hearts of everyone who came and participated. It's in my heart especially, and with John Burk who sat there every moment from the beginning, and with Patrick who was with me every moment and watched the record come together. George is living on in all these people in this very special way that we so glibly let trip off our tongues when we talk about someone passing. Well, I'm the living breathing example of how George lives on today in this work that we did.  We did what George asked us to do when we played with him – to go deeper and bring these new colors and shadings to the music. That was the intention we all brought to this project and that is what we want the listener to feel.There will be more George Duke music from other people and more from me. My next album is not going to be this, it will be back to the Jarreau that you know, but I'll be bringing some influence from this and that's really quite something!