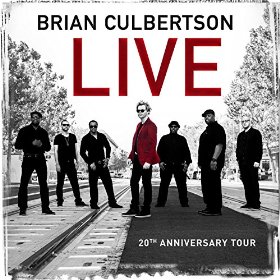 Live has always been better from my point of view. No matter what the genre musicians stretch out more when they get on stage in front of a crowd. The artistic and budgetary constraints that come with studio recordings are not in effect. It's about pleasing people instead of a record companies or radio executives. This has been the case even more in the genre we call Smooth Jazz because there was a period of time when restrictions on what could get airplay were so narrow and limited. There were artists who delivered good stuff within or in spite of these boundaries, but when you went to a live gig and saw them take it up several notches and really bring it, it left you wondering why you couldn't find an album with that same diversity and energy.
Here comes one that delivers the goods! Brian Culbertson's Live 20th Anniversary Tour gives you a 21 song set that covers the essence of Culbertson's impressively diverse body of work.  It's all here – power funk, uptempo  jams, smooth grooves, soulful vocals, chilled out atmospherics, and meditative piano soundscapes – all with those catchy irresistable melodies that have been the benchmark of Culbertson's songwriting since his debut album was released. What is captured here is the adventurous spirit he and his amazing group of sidemen have expanded on since he self-released his glorious reimaging of that debut album last year.
The sizzling electric guitar solo introduction building into a spirited version of "Always Remember" driven by a powerful horn section, deep funk bass, and an EWF-ish background vocal tells the story in the first five minutes. You're in for a joyride here! That groove continues with a get outta your chairs take on "Hollywood Swingin'" Want chill? "Come to Me" is updated in a setting that would fit well on any progressive chill compliation. Soulful vocals both romantic and funky?  Saxophonist/percussionist/vocalist Marqueal Jordan delivers both sides on "Skies Wide Open" and ""Another Love." And rock? Oh yes! "Beautiful Liar" starts with a shimmering beauty that bursts into an anthemic rock ballad complete with a guitar shred from Adam Hawley. It even takes it up a notch from back when it was a the  jaw dropping surprise on Long Night Out. "Dreams," has been stripped down to a meditative solo piano piece that segues into a soft, jazzy intro to "On My Mind" which shape shifts between soft keyboard passages and power guitar breaks. Then the mood stays in that groove with his take on "Secret Garden,"  the Quincy Jones Quiet Storm classic that has become one of Culbertson's biggest crowd pleasers. They stay old school and fire it up with EWF's "Serpentine Fire" and "Funkin' like my Father," a tribute to his musican dad and the music of his generation which has been such an influence on his own.
I can't say enough about the diversity of this set list and how perfectly it is sequenced, or how tight and strong this group of musicians are. They solo, they riff off each other, they bring each other up and take it higher and when the jams get slow they make ya wanna..you know. And you get just enough conversation, banter, and crowd noise to turn your kitchen or your car into a party without drawing attention away from the music.
The players who fall under the smooth jazz umbrella have always amped it up live. I always felt that if that energy and sense of fun had been captured on the air and in the studio this music would have grown in popularity and built a multigenerational fan base that kept on growing. The music on this album validates that point of view. How could anyone get in front of this band and not be captivated and energized. I saw him play a free outdoor concert that filled the park with passers-by who got hooked on music they had never heard before. This is why writing off the genre is premature. The more albums we get that are like this one or Mindi Abair's rock oriented release the harder it's gonna be for naysayers to keep it out of the spotlight. This one is fun, it's a party, and it goes into all those places that used to be forbidden . It has fast songs, funky songs, "blaring" horn sections, thumping bass, rock guitar solos, jazzy riffs, extended soloing and it's delivered by one of the most high profile artists in the genre. Culbertson is an image artist and this is an image we can grow on. Here's to 20 more years and no holding back!