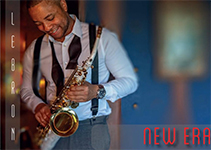 Saxophonist Lebron Dennis (Lebron) has released his second offering on the Trippin N Rhythm label, and has a lot to show this time out. Surrounded by a host of great musicians, he brings a fresh sound to the market place. The sound is clean and upbeat. "Shift Change" is the first one that begins with some great syncopated riffs that give way to some soaring sax. Never overstating, he continues to push this one along with an infectious melody that will take you to the end in no time at all. He follows the opener with the heavily keyed "Red Hook."  The layered intro is followed by his clean sax once more. This will be a good one live as it shows off some of his best playing so far. It may start off simple, but it builds to a nice ending. Vocalist Keith Fluitt is a nice touch as they slow it down for "For The Love."
The title track stretches it out a little with some good over dubs that lead into some great solo work. Matt Godina is there on piano as Lebron reaches new highs at the end. "Never Say Never" picks up the pace once more and shows off the talents of this sax artist. Co-label artist Lin Rountree adds his chops on trumpet for "Give Love A Try," while bassist Julian Vaughn adds his signature bass on the slower "Just Us", and my favorite, "Spot Light." This one is fun and lively while the two of them play off each other til the very end. You'll want to crank this one up a little! He closes out the album with a very soulful rendition of Don Henley's "The Boy's of Summer" and the melodic "If I Could Sing" featuring Rachael Gehmlich.
I'm always looking for new sounds or "voice" from artists. There are a lot of the same out there that gets lost in the shuffle. Lebron's New Era is one of those "new voices" that I think you're going to like a lot. He keeps it clean through out, and has a lot to say, without ever saying a lot. Be sure to check it real soon.
Harvey Cline