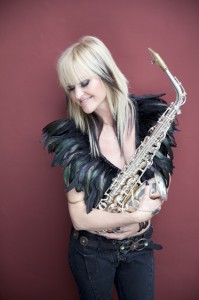 Inspiration is a lifeline to creative people, whether you are a music star fronting a band or working mom who sneaks in some self time with paintbrush and canvas when the kids are finally asleep. I have my go-to girls when I need a little kick out of the daily grind and back into that zone. The usual suspects that show up on Oprah and TED talks – Elizabeth Gilbert, Anne LaMott, Brene Brown…and Mindi Abair. Because she is smart, articulate, brave and totally lives the title of her last studio album, Wild Heart. She has been breaking ground, pushing boundaries, exploring, growing and stepping out of the safety zone ever since her catchy acoustic pop debut single shot right past the glut of high gloss urban soundscapes to the top of the smooth jazz chart. She never was tied to genre boundaries. She played with Duran Duran and the Backstreet Boys, put in jam time with some of the best blues and rock musicians on the west coast scene, and now she has toured with Aerosmith, gigged with Springsteen and gotten a "we're not worthy" bow and grin from Jimmy Fallon after she tore it up with his house band. It was no surprise when she began sneaking rock and electro influences into the deep tracks on her albums, went for a more raw sound on In Hi-Fi Stereo, rocked it on Wild Heart, then blew the roof off on Mindi Abair and the Boneshakers Live in Seattle. Did I mention that she is also my fashion hero too. After all, style is self expression and she nails it for every gig. We had a long chat and yeah, that makes for a long read but everything she said needs to be shared because it's going to inspire you to be brave, follow your creativity where it leads you, push it where you must and when you need some help…just ask! And just to set the stage here is the video she did about her new album. Seeing her and the band talk about it and work it says it all.
SV: Right after you released Wild Heart you wrote a beautiful piece on reinvention. You talked about how you were feeling burnt out and in a rut and had to step back and ask yourself the hard questions about who you were as an artist and who you wanted to be. You're a star. You are making hit records and playing all the big venues. Playing it safe had a payoff and it takes such bravery to move beyond that. What flipped that switch?
MA: I'm one of the lucky ones who still has a career and can still play live, and I'm very grateful for that. I do something artistic and creative and personal for a living. I don't have to do something I don't have a connection to just to pay the bills. I do something that stems from my life, from something inside me, from music that I hear in my head, from things that inspire me, anger me, or make me happy. Music and art are supposed to be things that are born out of experience. Invariably your experiences are going to change. Your brain is going to morph, your love life will take turns, life will change. I believe your art has to reflect your life. I don't feel like I have to apologize if my last record didn't sound like the one before that, and that one didn't sound like the one before that. I know the expected path is to do what you have done in the past, be safe, and fit in the box. I never went into music thinking I was a smooth jazz artist or a rock artist or a soul artist or any of that. I love to play and write music that inspires me. That happened to fit into smooth jazz and contemporary jazz and the last couple of records it seemingly fit more into soul and blues and rock. It's been a metamorphosis because that's the music that has been inspiring me of late and I'm having a blast playing it.
SV: It takes a lot of bravery to step out like that.
MA: I guess you could say that.
SV: It's the old story with most people that you will leap when the price of staying put is more than the price of taking the leap.
MA: I think it was born out of experience. I was doing American Idol which was giving me a different framework than the way I had been working. It's a beautiful gift to be a solo artist. It's all I wanted to be. I wanted to write my own music, I wanted to sing it, and I wanted to play it. I wanted to perform with my band everywhere. That's what I got to do. However, after a number of years, after a decade, you're in this bubble and that bubble can be constrictive. It's cool for some but you can become a caricature of yourself. Reaching outside that bubble and getting to experience what other people are doing and creating, and having to fit into that was a great thing for me. I went on American Idol and had to come up with what would sound good for other artists when they were in front and I was part of their band. Then Steven Tyler sked me to go out and spend a summer with Aerosmith that's a whole different act. I'm standing on stage with 50,000 people in front of me and I'm part of this band that gives a million percent to everything they do.
SV: The first time I saw you on Idol, which was the first time you played, my intuition hit was "she's found a space." You were amazing and it brought out a side of your artistry and ability to be a part of a band and support these different vocalists that a lot of us had not seen. It didn't surprise me a bit when you announced that you were going to tour with Aerosmith.
MA: Steven was looking for something new for his project. Talk about wanting change and being inspired to change he says "Look, there are members of Aerosmith who don't want anyone new, they don't want anything to change with the band, and you're going to have to sell them. But I'm sold and I want this band to be something even bigger than it is now. I want it to be more of a show and more exciting" He said he wanted to add me to bring another dimension, that I would play and sing and just make it a bigger show. He told me I had three dates to prove it to the rest of the band because they like Aerosmith just the way it is.
SV: Woah..that's a little bit daunting!
MA: Yeah. Three nights, to be told that was your proving ground. But here is a guy who has been in a band for over 40 years and he wanted change. He wanted to grow. He wanted to morph. And I got to be a part of that with him. So here I am in Aerosmith and I start thinking about how I can bring this energy and this abandon on stage in my career. We have been the rockers of the jazz world as long as I can remember. That has always been my thing when we are live, we definitely are rockin' out. But on the records it didn't translate as much. It was smoother and it wasn't as raucous as our live show ever.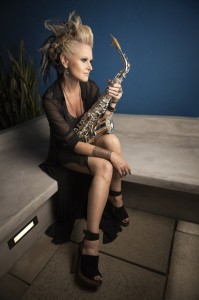 SV: I think that's true of almost every artist I have seen live. Their studio projects were more subdued, especially when there was a format they had to fit.
MA: True. It's hard to get that abandon and that type of energy recorded in a studio. I sat down and started thinking about how I could bring this to my career. I worked with all these rockers from Duran Duran to Waddy Wachtel's band in LA that has all these heavyhitters like people from the Stones' band, Stevie Nicks' band.
SV: A lot of names you see on all the liner notes if you still have anything with liner notes in it.
MA: Yeah. I've been playing with these guys for 20 years.
SV: Which is probably why that flavor was so upfront and you even were able to sneak it in on your recorded work.
MA: I wanted more of it on the records. A lot more. It was a matter of bringing this into my career so I wrote with Waddy and brought him in. I asked to be introduced to Booker T because I'm such a big fan and he is that artist who broke in through rock, soul, and jazz. It was the same with Trombone Shorty. I wanted someone who could really fire it up.
SV: Booker T is an icon with this generation spanning career. How do you ask to be introduced to Booker T. ? It's gotta be intimidating to ask to be introduced to your heroes and possibly work with them.
MA: I asked everyone I knew. I must have asked at least 50 people. "Do you know Booker T? Do you know Booker T?" Finally the person who hooked it up was the president of Concord records. I went to him and leveled with him and asked for his help because Booker T is on his label. He has not been directly involved with my records, he's the president of the label. He's like the big guy in the office up there.  This time I needed his help directly. I told him I wanted to make a different record. I want to expand and grow, and I want to write with Booker T. Jones because everything about him appeals to me and I think he would be amazing. B3 and Sax? C'mon, that's how those great records were made. He made the call and I was in the studio with Booker T in two weeks.
SV: There's a moral to this story. Ask and keep asking because if you keep asking and you have a clear vision a yes will come.
MA: Ask 100 people if that's what it takes, get the word out. I think it's so true. I was in the studio doing Wild Heart and during this one song I was telling the guitar player that I wanted the feeling I got when I was on the road with Aerosmith. I wanted him to play like his shirt was ripped down to his navel, the wind was in his hair, and he was playing to 50,000 screaming fans. I needed that kind of power. He said "Don't you know Joe Perry." Yeah, I do, so I called him. I was completely expecting him to say no. I mean he's a rock hero, he's Joe freakin Perry. He doesn't need to be on my record. And Joe freakin Perry said yes! We were in the studio together within a week. Sometimes you've just gotta ask. I can't believe the people who have said yes.
SV: I have heard that from other people who were chasing something that was close to their heart, that when they asked for collaboration, help, or support they were surprised by how many people said yes. Our readers admire you so much that when they see this it could be the little nudge that inspires them to step out of that fear place and ask too.
MA: I think that as artists we are innately sensitive and self deprecating. We are constantly trying to better ourselves. Something inside us tells us we are not good enough. I have heard that from most people I know who are artists and I have definitely dealt with it myself. I'm not good enough, or am I cool enough to write with this person or cool enough for that person to want to play on my record. I have played with a lot of incredible people and sometimes you doubt yourself. I think that's human nature, especially if you're in a creative process.
You and Randy Jacobs are such a perfect teaming up. I fell in love with him when I saw him with Boney. It was like, who is this guy? Because he was a total rocker throwing down these amazing solos you'd expect from Jeff Beck or Steve Vai in the middle of a contemporary jazz band.
MA: We started playing together 20 years ago, more than 20 years ago actually. He was doing back flips on the stage. I had hair down to my butt and I wore manly clothes and didn't wear makeup. I was tomboy fresh outta college and he was rockin', running around the stage. It was so much fun. To take that from then to now when we have played on each other's CDs for years and his band is my band it's just very cool. He's himself. He's not fitting into anyone's box. He created the box and it is wide and large. It's just fun to see him get to be himself and watch the audience go nuts. This is how it's supposed to be, completely unfettered.
SV: You see that live in "smooth jazz" concerts but still, there are constraints there and he just flew right outta that box. I saw that with you too. You pulled off some songs that were so catchy and melodic they could sneak under the smooth wire but I felt like that "smooooth and relaxing" branding never really fit who you were or the music you played. "Flirt" broke every rule and it still got on the air and up the charts.
MA: That one didn't do well on their tests at all, even "Lucy's" tested so horribly they didn't want to put it out. That song was representative of the record I was putting out. It had a bunch of acoustic guitar songs, drum loops, and me singing. That was going to define who I was at that point in time. So they are coming back to me saying "it doesn't test well." That didn't make sense. I was being told that I represented the new generation of artists and I was going to go in there and bring my different sense of music and sonic wonderment and move this music forward. Then they were worrying about what I did not "testing well" and they wanted me to work with the producer who already had most of the top 10 songs for several years, to make me sound the same as those. I went to the president of Verve and had this huge conversation about how they had signed me because I had a different sound and sensibility so why were they wanting to set me up to sound like what is already there. I was, like, "No!"
SV: Do you know how brave it was for you to stand up for your music and yourself back then. Nobody was doing that. Most artists were just putting the safe songs on the front of the album and being totally themselves on tracks 9 & 10.
MA: We should all stand up for ourselves. Nobody should back down when it's your music, what you are putting out into the world. This isn't some record I'm making of someone else's music. This isn't someone else playing. It was something very personal, so for me it was a question of why would they do this, why put me in a situation where you are asking me to sound like other artists. It's already being done. You signed me to bring something different, to be myself.
SV: There was so much sameness too, a lot of easy listening urban grooves. You were coming in with the opportunity to expand the sound and bring in some pop rock influences, some funk, and even a little electro.
MA: I grew up with a lot of different music. I think you have to be true to yourself and what you grew up with and what's really inside your head when you are coming up with music. I just played the Opry last week. What kind of saxophone player playes the Grand Ol' Opry? I do. I did listen to country. I like it, I have immense respect for it. So is that not cool?
SV: It's actually very cool. Then they next day you can jump onstage with Clarence Clemons or Aerosmith.
MA: Yeah. A lot of jazz people act like you're a traitor if you step out of that box. Bruce Springsteen and Clarence Clemons made me feel! I believed every word they played and sang. It hit me emotionally and I have been inspired by that. The places we get our inspiration and how we express it are very real to each one of us, and we're supposed to be individuals last time I checked.
SV: The whole jazz elitist thing has always bothered me. There are so many in the jazz community who put it on this pedestal and think you should listen to and appreciate only one type of music. Even just one segment of that type. The irony is that originally jazz was a musical melting pot. I was listening to an interview with Christian McBride, who has straightahead credentials big time. He was talking about how the first song he learned on bass was "Papa Was A Rolling Stone" and his pop and R&B influences. When the interviewer asked him how people could begin to educate themselves as jazz listeners and he said you don't educate yourself about it, you feel it. That was so fabulous.
MA: Yeah, make music that people can feel. On any level. If you're writing songs like John Coltrane and people are feeling them that's awesome. If you're writing songs like Springsteen that's awesome too. I live by that. If I'm not moved by a song I write that song doesn't make it to the record.
SV: We talked about the role of rock instrumentals before but it's important enough to bring it up again. Look at the history – Booker T obviously, The Ventures and surf music, all those wild sax led rock'n'roll songs from the 50's and early 60's and obviously the soul music – BarKays, Jr. Walker, all that. You're picking up a thread that went dormant in the late 20th century but people love it.
MA: Sax was as integral to pop and rock music as guitar. People like King Curtis and Jr. Walker were rock stars of their era on saxophone. I love the grit and intensity of those players. They're just diggin' in and it's gritty and it's dirty and fun. There's personality to it. I love the blues influence, it all speaks to me.
SV: When you decided to do Wild Heart, to completely jump off the smooth jazz path, what was the reaction?
MA: I actually expected more pushback and I didn't get a lot of pushback. It was really interesting to me that most of my fans just dug it.
SV: How about the record company?
MA: The record company loved it. They weren't involved with making it, really, except for helping me out with the call to Booker T. It was me in the studio doing all this stuff with no supervision. That is something that was pretty beautiful about my label. They let you make the record you want to make. I was in there writing with people and producing and recording. I had told them what I wanted it to be. My idea was think sonically of a Jr. Walker or King Curtis record but with all the abandon of a rock band. It's going to have that edge and energy of contemporary jazz and rock but sonically we're going to draw from some of those older bands. It's going to be an older take on the sonic atmosphere but not retro, more like the big raw sound instead of being so digitally clean. When they actually heard it their reaction was "oh, right on!"  That one was for our fans. I find that a lot of the people who go to smooth and contemporary jazz concerts love rock, they love the Rolling Stones, they love Aerosmith. They grew up going to rock concerts and they go to them now so it's not that far of a reach to think that bringing a lot of that into instrumental music is going to be cool.
SV: When the WAVE went on in the late 80s and kinda started the smooth vibe a person who was 40 or 50 then had a totally different musical history than someone in that group now. Back then you were maybe talking about someone who was moving toward an easy listening sound as they got older, now you're not just talking about people who grew up with Hendrix and the Allman Bros. You're talking people who grew up with that, then Aerosmith and Springsteen, then Nirvana and Alice In Chains.
MA: Yeah, rock is just a part of you that you don't outgrow. My dad put together 8 rock bands a year for 13 years while I was growing up and put them on the road. I was constantly around that. I was sitting in their practice rooms when I wasn't in school, that was my summer.
SV: Coming off of Wild Heart was there even any premonition of hooking up with Randy and the BoneShakers and doing this.
MA: When I made Wild Heart I realized I was going to have to switch up my live band some. I made some different choices on the record and I needed a little bit different band to make it honest, to make it come out real and represent what I had recorded. I like musicians that live in that space, the ones who already live where I want them to play. I wanted that to be their happy place. There was a drummer who had been in my band for ten years. He is an amazing musician and he was doing this for me and with me but his happy place was traditional jazz and I was pushing him to be a rock drummer. He was doing it for me and he was great, but I was really selling him out. My feeling was why sell someone out when you can get someone who fits the bill innately, someone who lives that. I switched up a few band members and Randy Jacobs was the first person I called. I told him I needed him and I asked him to listen to the record. He wasn't actually a part of it but it was so obviously him. I told him he had to be the guy. He was up for it and when he joined my band he started using some of the guys in my band for his band, The Boneshakers. When his band and my band were playing the Newport Beach Jazz Festival it was pretty much him, Sweet Pea, and my band so it was pretty obvious for me to sit in with them.  I did that not really thinking of anything but having some fun playing with my friends and it was off the hook.
SV: It was Captain Obvious tapping you on the shoulder.
MA: Yeah, if you listen. A lot of people don't listen to these instinctive things but what I was feeling was "Oh My God this is the band you've been dreaming of." It was the material and the way that we played it, which was a little more blues rock than what my band was doing at that point. I knew right there that we had to take it on the road. This is what music is supposed to be. You're supposed to be inspired every night like this. I walked off the stage buzzing. It was the way I want to feel every time I play. Randy was all for it, Sweet Pea was all for it, and the rest of the band was mine. So we went on the road as Mindi Abair and The BoneShakers. The first weekend of gigs was at Jazz Alley in Seattle. I called up my friend who is an engineer and asked him to record us. Just stand in the back and do it. I don't want to think about it, I just want to play. I told him he was going to freak out at this band and chances are we are going to capture magic. It was our first set of gigs as this band and we captured it. It was awesome! (you gotta hear her telling this story – click here)
SV: The opening is this James Brown type intro. I would love to see you walk on stage after Randy does that guitar shred and gives you that old school soul revue intro.
MA: That is so great and it fires us all up, it fires the audience up. We start from there and take off.
SV: I got my copy in the mail and grabbed it when I was leaving for work, stuck it in the player and it was, like, woooosh. Like the guy in the Maxell ad that I used on the CD review. I'm really lucky I didn't get a speeding ticket.
MA: That's the feeling we want people to get. This band live will burn down the room. It's just nuts what this band can do.
SV: I can see everyone walking out of that room on this adrenaline buzz.
MA: That's what I want to do as an artist. You have to do what inspires you and when you are doing that it has that effect on other people. The buzz, the inspiration, the energy. They come away feeling that too.
SV: Going live at the begining of a tour was brilliant. It's still new for you, it's got that raw excitement going and it's pretty much impossible to take that into the studio. The studio environment with all that technology just encourages over thinking, over tweaking, and over analyzing. Not necessarily a bad thing but a really different thing.
MA: Yeah, that feeling of "let's make this perfect."  You're in a room, the equipment is in front of you and the audience isn't there for you to feed off of. It's a different energy. This record isn't perfect by any stretch and I love it because of that.
SV: How did you pick the songs and reinvent them. You're talking a huge body of work, yours and The BoneShakers, a lot of songs the crowd wants to hear, and songs they might not know yet that mean a lot to you and represent the direction you're headed in now?
MA: We went through a bunch of material from my band and from the BoneShakers and just listened to it as fans. I would hear things like "Don't Change Horses" and think Tower of Power, we gotta do that. I wanted energizing, funky, music. As far as my material I tried to choose things that fit this style and spoke to where I wanted to be as an artist right now. It was the stuff that had a little more "grrrrrr…"
SV: I love the way you reworked "Flirt." It sounds like the way that song was meant to be from the beginning.
MA: I had played that song with Randy for years and he always added this old school Detroit and Sly and The Family Stone thing because that's just where he comes from. Nobody feels it like he does and I was so glad that I got to record it live for the first time the way he does it. That song was screaming for a new direction and this is it.
SV: Yeah.put some meat on the bones. What was it like to really dig into the blues with Sweet Pea in front of you?
MA: I love the blues and when I was just coming up the ranks in LA I would go play in San Diego because it was hard to get hired LA when you are starting out. I ended up playing with some of the really down'n'dirty blues artists and it was a blast. I love that music, it speaks to me and it's this deep pocket of feel. Being able to delve into that with my band is just awesome. Sweet Pea just oozes that. He's this gruff character – the 70 year old blues man. Everything's real coming out of him. He's not going to sugar coat stuff. He's a beautiful guy but he's rough around the edges. Really rough, and it's real. He's lived a rough life and it shows. I love the guy. I wrote the song "Gone" and had a little demo of it when we started rehearsing. When I heard his voice on it, it turned the song into everything it was meant to be. Having someone change your perception of your own music, which is what happened with him on that song, is an experience I wouldn't want to miss. I live for stuff like that.
SV: It's what took rock to another level too. Cream, John Mayall, Jeff Beck and Rod Stewart, Ten Years After, Led Zeppelin, Rolling Stones. All those bands were doing blues based music. They were making it rock but it started with blues and they recorded a lot of blues material and pushed us into listening to John Lee Hooker, Muddy Waters, Big Mama Thornton, all those people.
MA: And Aerosmith still consider themselves a blues band. I remember when Cheap Trick was opening for Aerosmith and the guys were saying we are just a blues band and Cheap Trick was a pop band. They didn't even know that what they did was take it further. They take that blues spirit further, they take it to new places. It's really interesting to me to play this music and know it was the underpinnings of a lot of stuff I listened to as a kid and now I'm digging into it myself.
SV: Your band played right before Buddy Guy at the Clearwater Jazz Festival last fall and you got to come back onstage and play with him. What was that like?
MA: I was such a crazy fan. I met him between our sets. I asked to meet him. Again, just ask. He brought me to his trailer. He was sitting there drinking Cognac and he offered me some. I wasn't gonna turn that down. So we were sitting there talking about music. He's this wise old soul and I just laid it out. I said "look I don't know if you have a song in your set that needs saxophone but it seems to me that you need a saxophone in your set. It seems like a missing link right now, I'd just love to play with you." He said "You don't have to ask me, just walk up on stage." I was saying "I'm not just walking up on stage with you. You're Buddy Guy, I'm asking first!"  And it totally worked, it was totally off the cuff. He asked me if I knew the song "Slippin' In." I did and he told me to come onstage when they did that song. You make it happen. It was magic, just magic to play with that guy. It was sheer inspiration. That guy is like a lion when he's on the stage. (link video).
SV: And so are you.
MA: That inspires that in me. He means every note he plays. I was smiling for a week.
SV: You wrote a piece about some of the challenges you faced as a female musician. That was actually a brave thing to do because people do hit blocks because of things other than their skill. It might be gender, race, size, age, any number of things. Some won't speak out about it because they don't want to look like they are throwing a pity party so talking about it and how you move past it and through it is gutsy.
MA: I think sometimes we are defined by the way we deal with certain situations. When I was turned down because I was a woman or not taken seriously for gigs I took that as a chance to prove myself. It became kind of a quest to change those misconceptions. I took it as a charge – you think I'm not good enough for you? Watch me! Watch me go!  I don't know if that's the way I was raised or if it is just the way I ended up taking it but I would go "oh, you don't think women can play? Alright? Stick around and see my band." (note: she said that with some real swagger, as she should) I always feel like I can prove myself when I get the chance. You put in the hard work to be good at what you do and you have to believe in yourself. The professor at University of Miami who told me girls didn't make it in the jazz saxophone program there? Looking back it turned out to be a good thing. He lit a fire under me by telling me no and here I am now doing the stuff I dreamed of doing.
SV: You write, you tour, you produce, you have been working with such a variety of musicians in all these different settings. You have a line of jewelry based on those fabulous pieces you wear on stage, you're on the Grammy board, you've been to DC talking to elected officials about the importance of legislation to support musicians getting paid for their work. You have a great presence on social networking and you're interactive with your fans. Just listing all of that makes me want to take a nap (laughs.) How do you do all of this?
MA: I don't know. I just do what comes my way when I believe in it and it's something I want to do. And yeah, sometimes it's too much. I definitely flop on the couch sometimes and say wooooah. But it's important stuff for me so I try to make time for it. Some things are born of necessity. Advocating for musicians, obviously.  And the jewelry is a fun thing too, people were asking about the pieces I wore so I have recreated them so people can buy them. And my signature mouthpiece is coming out. I had a special mouthpiece that was one of a kind and last year my saxophone was stolen with this one of a kind custom mouthpiece on it. I had been working with a manufacturer for a while thinking we could getr something that betters my mouthpiece and I could get one when I needed it too. So when this happened I called and said "Hey, remember that mouthpiece we were working on? The universe just told me it should be done. So we got together and made it happen, that's what I've been playing on for the last year and it's a killer mouthpiece. It's not like I was out there looking for something that would take time, it was necessity. So sometimes that final push to do the things you feel like you want to do comes out of necessity.
SV: You have been going to DC to speak to legislators and others about the need to change the laws regarding the musicians rights to get paid for their work in the context of the new business economy. Most people who aren't actually working musicians aren't quite aware of the what is involved with this.
MA: The world is a different place than it was even 10 years ago. To put it in a realistic framework I make about 90% less in royalties than I made when I started out as a recording artist. The reason for that is the business model has changed dramatically but the laws have not. You used to get paid a certain royalty when you got played on radio, and for the sale of physical CDs now most people listen to Spotify and Pandora and iTunes instead of radio and people don't buy whole CD's anymore. That is going out of fashion. There are almost no record stores anymore where you can do that. The whole structure for how artists make money has turned on its end. So how do you deal with that. You can sit back and just write about how bad it is. I would rather be a part of creating a solution. I look at who was the preeminent organization for the music business. I saw that as the Recording Academy. There are about 25,000 members who make their living creating music. These are the the people who are being affected the most. They do this thing called Grammys On The Hill where a bunch of us go every year and set up meetings with congress and talk to them. It's a nonpartisan issue. We see people who represent us. I talk to the people who represent California, others speak to the people from where they live. We talk to the people who represent you. We can point out that there are members of their constituency who make their money through copyright and there are issues that are crippling our economic survival that need to be addressed. We did that on a local scale and called it Grammys in my District. We went out with 1650 musicians across the country and met with 330 different congressional districts. We told our story about what was really happening with people not paying fairly for what they are using. The laws that have been created are kind of a patchwork quilt, you are dealing with old laws and laws that have loopholes. For instance there is one that you don't have to pay for music that was created before 1972. There are also different pay scales for terrestrial radio vs streaming services like Spotify and Pandora, vs downloaded purchases. I think it is fair and valuable to sit down and explain that there is a fair market value for what a song is and let's put that across all platforms. You play a song you pay this amount, an amount that is fair and what the market will bear. You create some parity where right now it's a random patchwork that has not caught up with the current state of music delivery systems. That's the long answer to your short question (laughs).
SV: But an important answer. We are so busy doing our thing, going about our own lives and just consuming music in the most convenient ways we can find that most of us don't comprehend the effect the altering of the revenue stream has affected musicians. You work hard, you entertain us and you inspire us. And the ways people are affected by music go so deep. Obviously the people who create the music need to be able to make a living. Ask any working person how their life would be affected if they walked in to work and were told that they were going to do 35 of their 40 hours a week pro bono from now on. And music isn't the glamour profession that it sometimes looks like when y'all are on stage performing. It's hard work. Really hard work and with very little in the way of stability and security.
MA: Right. And I will stay out here in the trenches because I believe we can change some of these laws. It's up to us to really tell people that this has to change or we are not going to have an artistic future.
SV: And that is unimaginable but you're in the trenches doing that work and you're on stage with your band bringing rock and blues back into contemporary instrumental music. Fight the good fight and thank you so much for your music, your work on behalf of the music community, and for being so connected and interactive with your fans.
You  can keep up with all things Mindi at Mindiabair.com, she tweets @MindiAbair and is on Facebook and Instagram. She's interactive! And if you are looking for fine jewelry that looks rock star not stodgy her designs will knock you out. Click the pic!