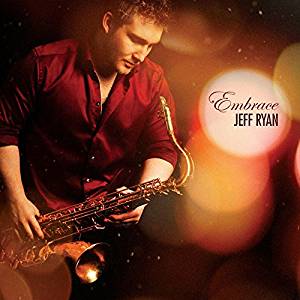 A long time ago I was music director at a radio staiton that had a Sunday morning jazz brunch show. This was the most musically exciting time for the emerging genre that was then called contemporary jazz so a lot of incredible music was landing on my desk. I still remember one album that just jumped out of the stack because the songwriting on every track was so strong, the artist's tone was so expressive, and there was such stylistic diversity. That album was Trust by Boney James. Fast forward several lifetimes and I am again involved with a radio station and mining for those ear grabbing gems in a massive list of new releases. A few songs stand out but one song jumps beyond that. It's Jeff Ryan's debut single "Up and Up." When you hear it you immediately look at your screen or grab Shazam to see what it is. But…can he deliver a whole set that is that strong? The album comes out and I get that same vibey feeling I did all those years ago with Boney's debut. Ryan is totally not a "Boney cloney" but he plays with warmth, precision and a strong sense of melody both in his tone and the songs themselves. This album is a multifaceted showcase for one of the genre's freshest and most skilled new voices.
Embrace is an album that lives up to its title. "Up and Up" is midtempo burner that manages to keep that funky undercurrent while the tone of his sax feels like a welcoming embrace. This segues in to the gorgeous ballad "Blue Wave." The title track is a hook heavy ballad with more urban flavor and "Dusk till Dawn" sounds like the title feels, a loose mellow groove with a chorus that flips into a brighter mode and . "Sweet Spot" brings some new dimensions to the circular funk riff that opens so many smooth jazz hits these days. It reels you in with familiarity then goes off the grid with some nice tight improvisation between the lines. There are more uptempo spins in this set too. "J-Factor" is an irresistible retro flavored funk jam and "Matter of Fact" is absolutely joyous. His take on Bruno Mars' "Versace on the Floor" reinvents the song by flipping it out of cover territory and into being a strong contemporary instrumental. You don't think "cover" when you hear it, you think "great song!" The album's closer steps into more organic territory with stripped down production and acoustic instrumentation. It is more peaceful, less dense and the quick fade at the end is the perfect closing to a musical experience.
This is more than just a collection of songs. It really is an album. Ryan and co-writer producer Greg Manning have put together a group of songs that are all catchy and engaging and run the spectrum of tempo, texture and emotion. They and the contributing musicians have managed to combine the sense of familiarity that is necessary for airplay exposure with the freshness and excitement that the fans want to feel. This is tightrope walk to say the least and with his promising debut Jeff Ryan has Embraced the challenge and pulled it off beautifully.