Rick Braun shared this on his FaceBook page: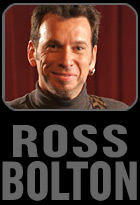 "I am writing to let you know that my dear friend of nearly 20 years, Ross Bolton, is going through a very serious medical issue. He has cancer in his brain, spine and lungs. Ross has two young kids and he is fighting this disease and is in good spirit but the road is hard as you can imagine.If you have seen any of my shows in the last 18 years, there is a good chance you know who Ross is. He is a great father,musician and a fine person."
Al Jarreau fans will also remember Bolton as the guitarist in his touring band during the late 90s and early '00s, he was featured on several Jarreau CDs as both instrumentalist and songwriter. He has toured and recorded with Braun, David Benoit, Down to the Bone, Warren Hill and numerous other pop and jazz artists.
There is a fund set up at the microgiving.com website. All donations will go directly to Bolton and his family, and there will be a benefit concert later this month in Sherman Oaks CA with Braun, Mindi Abair, Euge Groove, Gregg Karukas, Peter White, Phillipe Saisse and others.
You can access the microgiving website page above or on Bolton's website, which also has information about the benefit concert. There has already been an outpouring of donations and love. Please keep him and his family in your prayers.