Dave Koz, Mindi Abair, Gerald Albright, and Richard Elliot have been in the studio working on a star-studded album called "Summer Horns" which will be released on June 11th. The album features their interpretations of 11 of the greatest horn driven bands from the 60's and 70's and wraps up with one original, appropriately entitled "Summer Horns".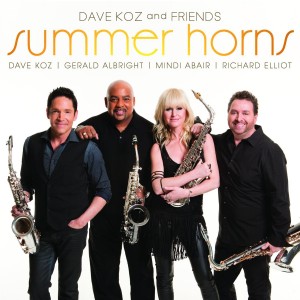 Some of the highlights are their versions of Chicago's "25 Or 6 To 4," Earth, Wind and Fire's "Reasons," James Brown's "I Got You (I Feel Good)," Ronnie Laws' contemporary jazz classic, "Always There," and a Sax only arrangement of "Take Five."   They brought in three of the most well known horn arrangers out there – Greg Adams (Tower of Power), Jerry Hey (look at the liner notes on your favorite albums, he's everywhere), and Tom Scott (check the liner notes again, you'll see his name everywhere too).
The album is already available for pre-order at  Amazon.com where you can also see a complete track listing and they will be touring throughout the summer, starting with a June 7th date in Florida.  Tour dates and more information about the album are available on Dave Koz's website.