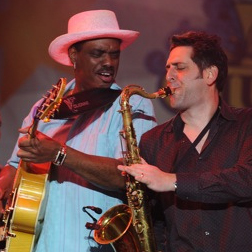 On a beautiful August evening in Bethesda, Maryland, a sizable crowd gathered in the new Bethesda Blues and Jazz Club to hear Chicago natives Nick Colionne and Steve Cole. The Club was the former Bethesda Cinema and Draft House, an art deco theater from days gone by. It is a terrific place for concerts, with amazing sound and ample space for dining and dancing, if the mood strikes you.
Pairing Nick and Steve is brilliant! Both are amazing talents; both are crazy funny; and both can bring a crowd to their feet. They, along with their amazing band, locals Benjie Porecki (keys) and David Dyson (bass), and another Chicago guy, drummer, Jason Grant, gave the crowd 90 minutes of pure fun. Both Nick and Steve played on each other's songs, starting with Steve Cole's "Bounce" and "Curtis." Then we got to hear Nick's "Some Funky" and after breaking a G-string (on the guitar, people!!), "Rainy Night in Georgia." Steve's "Just A Natural Thing" followed and then both tore it up on the classic, "Sugar."
In between songs, you can always count on the humorous banter between these two part-time comedians! They kept the crowd engaged and craving more, and by the end of the evening, nearly everyone was on their feet dancing with Nick, who was out in the crowd. What a fun night!
If you get a chance to catch Nick Colionne and Steve Cole together, get there! You will not want to miss out on the amazing music and laughs. And if you can get to the Bethesda Blues and Jazz Club, do that, too! It's a terrific venue for music.
By Bonnie Schendell