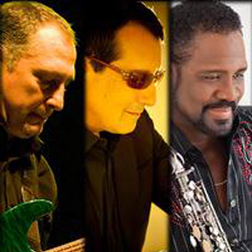 It was a warm summer night and there was another great concert scheduled at the Bethesda Blues and Jazz Supper Club in Bethesda, MD.  I was excited about seeing this show.  Of course it's' always great to see Jeff Lorber and Chuck Loeb perform, but Everette Harp would be a first for me, so there was some anticipation.  These three musicians were backed by two more incredible musicians, Lionel Cordew on drums and Ron Jenkins on bass.
Chuck Loeb opened the show with the beautiful "Silver Lining," a song I first heard him play with the Reading Pops Orchestra.  I enjoyed it as much in the band setting as I did in the orchestral.  That's a good test for a song, to see if it can hold its own with different musical arrangements and environments.  This song passed.  Chuck Loeb is awesome.  Everette Harp took the stage next with "All Jazzed Up with Nowhere to Go," which was just as much fun hearing as the name implies.  Jeff Lorber introduced us to his latest, "Hacienda."  When you hear it, you know it's going to be a hit for him.  We enjoyed more music from this group, "Silhouette," from Loeb, "Solar Wind," from Lorber, and "What's Goin' On," from Harp.
The crowd was enthusiastic and very much into the music, as they should be when it's this good.  After a brief intermission, the artists returned and played out the rest of the show; "Live Wire," (Lorber) and "Going Through Changes," (Harp.)  Everette Harp dedicated this song to George Duke, who had passed on only two weeks prior.  He told us that George Duke was his mentor, and that he produced his first release, and his current one.  He shared with us that he had a release that George duke did not have a part in, whether it was playing, writing, producing, etc.
The highlight of the night for me, as well as for a lot of others was Chuck Loeb's "The Music Inside."  The crowd really reacted to this one.  He played and scatted to perfection and was rewarded with a standing ovation.  They rounded out the show with another from Jeff Lorber's latest, "King Kong," and Loebs' "Blue Kiss."
After much applause and accolades from the crowd, the group encored with Lorbers' "Tune 88."  Overall, it was a pretty good show, one that I would not mind seeing again.  Sometimes you go to a show and there is a lot more than music going on; there's audience participation, there are jokes, and stories, and all sorts of other things.   That can be a good thing, depending on the artist.  But sometimes you don't want all the bells and whistles.  Sometimes you just want to sit back and hear some good music, played well, by people who know how to play.  That's what this show was for me.  How could anyone not appreciate live music when it's this good?