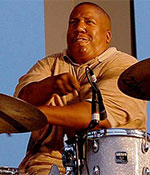 Once again tapping into the stable of musicians that play throughout the Berks Jazz Fest each year, SmoothViews had to feature one of the top notch drummers that has caught our eye.  Richard Waller has been on the scene for years and playing with so many of the A-list artists.  It's easy to understand why, because when you come from a family as musical as Richard Waller's, how can you turn out to be anything other than a stellar musician?
Originally from Philadelphia, Richard comes from a long line of musicians.  "My father was the co-leader of a 13-piece funk band when I was growing up.  He played bass.  All my Uncles were musicians, and our most famous family member is the late, great pianist, Fats Waller."  So saying that the music was in his genes is an understatement, but having the DNA doesn't always mean that's what you want to do.
As a young boy, Richard wanted to play football.  But when he was hit by a car at age eleven, his dreams of being a football player ended.  He then turned to what surrounded him his entire life:  music, and started playing the drums when he was thirteen years old.  Richard studied his craft for five years at Philadelphia's prestigious Settlement Music School.  The Settlement Music School was founded in 1908 by Jeanette Selig Frank and Blanche Wolf Kohn as the music program of the College Settlement in the Southwark section of Philadelphia. The College Settlement was a typical turn-of-the-century settlement house offering a variety of services to the newly arrived immigrants in the community. The music program grew rapidly from volunteers offering piano lessons for a nickel to a full program of instruction in all musical instruments taught by professionals, including several members of the Philadelphia Orchestra. By 1914, Settlement was incorporated as an independent community school of the arts.  Settlement developed a conservatory division offering pre-professional training that was of sufficient stature to serve as the nucleus of the Curtis Institute of Music, established in 1924.  While in college, Richard also studied with the well-known drummer/percussionist, Joe Nero, who graduated from the Curtis Institute of Music and taught at Philly's University of the Arts.  In addition to drums, Richard also plays a bit of piano.  During the formative years, Richard's all-time favorite drummer and influence has been Tony Williams, who was the drummer in Miles Davis' band.
With such a family history in music and from all genres, it's no wonder that Richard's resume runs the gamut.  He has played with Gerald Veasley, Rick Braun, Chuck Loeb, Brian Broomberg, Victor Bailey, Adam Nitti, Scott Ambush, Grover Washington Jr., Elan Trotman, Joey Sommerville, Jeff Lober, Andrew Neu, Jonathan Butler, Joey Defrancesco, Christian McBride, Dr. Billy Taylor, Clark Terry, The Sun Ra Arkestra, Orrin Evans, Kenny Barron, Reggie Workman, Jamaaladeen Tacuma, Jeff lee Johnson, Dave Stevens, Jeff Bradshaw, and a host of others.  With a list like that, how can there still be artists that you are champing at the bit to play alongside?  Richard notes, "I would love to play with Herbie Hancock, Bradford Marsalis, and Chic Corea."
When this humble drummer is asked about how he got to this point in his career, he plainly says, "Hard Work with a little luck for good measure."  Well, his hard work and perseverance have paid off for him.  Currently he is working alongside Gerald Veasley on his new CD.
And while music consumes much of Richard Waller's life, he still finds time for simple pleasures.  "I still love football.  Always will.  I like cycling, reading and cooking."
So, once again, the Berks Jazz Fest has given us a glimpse into other amazing musicians out there.  Keep your eyes and ears open for this amazing drummer with a terrific history.