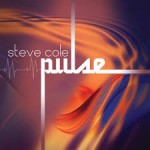 There are many saxophone players in the world of smooth and contemporary jazz, and it can sometimes be difficult to sort them all out.  But there are some that stand out and distinguish themselves with their talent, their musical style, and their personalities.  Steve Cole is one of those players.
Steve Cole may not be the biggest name in the saxophone playing world, but he is surely one of the strongest, most talented players on the scene today.  This is reflected in his seventh and latest release, Pulse. 
Pulse is representative of most of the things I love about Steve Cole's music.  It's multi-faceted; heavy on the R&B, funky, soulful, playful, melodic, and infectious.  That's a lot to ask of one CD, but Steve does a good job rolling it all into one 10 track package.
The title song, "Pulse," and "With You All the Way, " the first radio single, gives us some of the catchy Steve Cole hooks that we've come to enjoy over the course of seven albums.   This is also evident in "Looking Up."
"Slinky," a cover of a David Mann tune, and "Maximum Cool" are not as hook oriented as some of the other tunes.  They are not as neat and pretty, but they are funky, as is "Ain't No Love in the Heart of the City," a song laced with vocal interludes by guitarist Rico McFarland.  This speaks to the versatility of Cole as an artist; not only can he play the smooth music, and play it well, but he can take you to the edge too.
Steve is at his soulful best on tunes like "Do Your Thing," and the classic "Going in Circles."  These songs are a throwback to the late 60's/early 70's, when soul music was in its hey day.  Steve is bringing that era of music forward and expanding upon the foundation so expertly laid down by the giants of soul and old school R&B.
He closes the album with the upbeat "Believe."  This song makes you feel good when you hear it, and that's a fine way to end the album.
Pulse is produced by Steve, and coproduced with fellow saxophone player David Mann, who also contributes by playing as part of the horn section for this album.