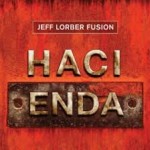 Hacienda means house, in the case of the title of this album, it refers to one of the London clubs where house music originated and the house/dance rhythms that influence the title track of Jeff Lorber Fusion's new release. Hacienda is also home, and in this case it could celebrate an album that sounds like a homecoming for Lorber, who first gained recognition as a fusion artist in the 80's, veered toward smooth, dug into some eclectic fare, worked with pop and R'n'B projects, and generally covered the wide swath of territory that a skilled musician can cover. The word "fusion" wasn't on the album covers for a long while but there was always a thread of that firey, jagged influence woven close to the surface of the releases that carried his name. This is the third album by the 21st century version of Jeff Lorber Fusion and Lorber and this group of musicians are truly bringing it home.
Hacienda could be seen as the third part of a trilogy, completing the circle that was started with Now is the Time and expanded upon with Galaxy. Lorber has said that Hacienda fully actualizes the sound he has been developing over these two albums and puts it into a tighter focus. Now Is The Time had some vocals, Galaxy was all instrumental and included some intricate reinventions of songs he recorded with the first incarnation of the band. Ten of the eleven songs on this album are originals and the eleventh one is a totally original choice that will light up the ears of fans who grew up with prog rock and fusion. He takes on Zappa's "King Kong" and is joined by Jean-Luc Ponty, who was part of the Mothers of Invention when the original was released. This one features the stunning array of musicians who showed up for the last two with Lorber, and two pedigreed jazz fusion veterans Jimmy Haslip (Yellowjackets) who also co-produced,, and Eric Marienthal (Chick Corea Elektric Band) who are also pictured on the album sleeve. Drummer Vinnie Colaiuta present on every song. Larry Koonse, an amazing guitarist who is undoubtedly in your collection as a session player even if you don't recognize the name, delivers some standout performances and Dave Weckl, another veteran of Corea's bands also shows up for a track. These guys have deep roots in contemporary, progressive and fusion but have also spent some time on the more commercial side. Now, in a situation where they can unleash their considerable skills, the melodic sensibility remains and the resulting set of songs will grab you on the first play and give you so many layers of nuance to discover over repeated listens.
This is not one of those albums that keep it safe at the start. "Corinaldo" is a powerful fusion piece with segments that remind me of Chick Corea's Return To Forever albums. Driving is the best word to describe it as Haslip and Colaiuta lay down a powerful backbeat, Lorber digs into some funky retro synth soloing and speedy keyboard licks and Marienthal shreds on tenor sax. There is some horn section power arranged by David Mann and the extended solos always boomerang back to a melody line guaranteed to stick in your head. Elegant and understated, "The Steppe," has the vibe and tonality of a Yellowjackets song but was actually written by Lorber with Haslip's presence being strongly felt and Marienthal delivering a sax line that is both gentle and powerful. Another of the softer tracks, "Playa Del Falco," a polyrhythmic romp in 6/8 time sounds like a speeded up waltz with Latin undercurrents. The standout for me, the one I think really makes a statement, is their reworking of the Frank Zappa/Mothers of Invention classic, "King Kong" which originally showed up on the Uncle Meat album in 1969, at the point when jazz rock fusion was just starting to coalesce as a genre. What a gutsy call! Plus he brought along Jean-Luc Ponty, who played on the original version and an extended marimba solo from Ed Mann, another Mothers of Invention veteran. This was one of Zappa's showcase pieces – the high velocity jam where he and his bandmates stretched out the solos. Lorber keeps it true to that spirit. If progressive rock is a big part of your musical history this is like a present from the band – a reminder that this stuff was, is, and always will be totally killer. 
This is one of those albums where each song brings something new to the table, it might be swing, funk, jazz, fusion, even dance pop and r&B and obviously the musicianship is top-notch. This group's ability to make such intricate compositions sound effortless and accessible is quite an accomplishment. Lorber's playing is a revelation. He plays every type of keyboard imaginable and gets about every sound possible out of them, shifting from acoustic, to retro-Rhodes and covering everything in between weaving from speedy solos to lyrical delicacy often within one song. Haslip is Haslip (flash back to "Wayne's World"– the movie – and bow and say "we are not worthy!" Marienthal finesses the sax solos. Sax can sound obtrusive on fusion oriented music but he shows his pedigree here, powering it up rather than smoothing it out. And, although these three fusion projects have moved into edgier territory the trademark Lorber sound is present throughout. The intricacies of these compositions and the soloing are wrapped around melody lines that sound comfortably familiar even as the group takes them into all kinds of new territories. He's been enticing you with this stuff in the deeper tracks of his albums for years. Now you get to take it all in. I was lucky enough to see him perform a lot of this music a few weeks before the album came out and the audience, which was used to smoother fare, ate it up and gave him shouts and standing ovations. After the show fans gathered at the autograph table and he talked enthusiastically about how much he loved the process of creating the music and how excited he was about it. I certainly am and when you hear it you will be too.
Jeff Lorber's website is www.lorber.com. You can check out a short video with comments from Lorber and some behind the scenes shots of the recording sessions here.