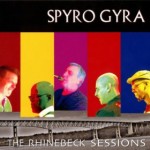 Over the years I have talked to a lot of people who left a concert wishing that that they could buy a CD that had the same level of energy and interaction that they just experienced. They buy the CDs and like them just fine but the energy and interaction just aren't there, or the sound has been spiffed up and polished with so many layers of technology and production tweaks that it sounds and feels emotionally detached. The songs tend to be shorter, the players don't cut loose, and the overall vibe is usually more subdued. That's the way the rules have evolved over the 20 years since the relaxation focused smooth jazz format began to take over the airwaves. Record companies needed to deliver music that fit the format so artists were encouraged (urged? Forced?) to shorten it, tighten it and tone it down. The artists who have managed to shake this straightjacket off have mostly been the artists who were established before the straps were tightened – the ones who developed a musical identity and could see their North Star even as they had to tread off the path to stay in the game. There have been some fine albums recently by artists who decided to bring more of the live experience into a studio setting – Jeff Lorber Fusion's stunning Hacienda comes to mind – but leave it to the guys who were innovators in the beginning to do it again. Spyro Gyra decided to go into the studio and create some music on the spot, writing it and playing it from scratch and recording it as if they were on stage playing it live. Three days in a studio with no time for second guessing second takes. The result is a revolution. The Rhinebeck Sessions delivers a band at the top of their game doing what they do best – collaborating as musicians and writers and playing their you-know-whats off.
The way it happened is that group leader and sax player Jay Beckenstein wanted to try something different. The band's usual process was for each member to contribute songs that were already written, the band would work them up and record them and the album would be a collection of songs by various members of the band. This time he wanted to take advantage of the chemistry that has developed over the years and shake things up so they went into the studio for three days without prepared material and created the music live. Production credits also go to the whole band rather than any individual. Plus, they released it independently on their own label, which means that the only label executives they had to answer to were themselves.
The music is indescribable. Literally. I can't verbalize it and you probably won't be able to either. With most albums you can take each song and sum it up with a few words. This one is like having five world class musicians jamming in your car or doing a concert in your living room that is all new material they came up with just for fans like you. Each song has an identity and they are all loaded with melody lines that are distinctly Spyro Gyra but none of them are just short excursions into verse-chorus-bridge,they all cover a lot of territory and the shortest one clocks in at over five minutes. They all feature extended soloing and jamming interaction between either several members or the whole group. The best way to do them justice would be to list the highlights of each song and the time that they happen but that would take about three pages and send you skipping across the music with a case of musical ADD when you really need to play it all the way through, give it all of your attention and let the WOW moments begin. Lets take one song as an example – "Serious Delivery" which could be as much a mission statement as a title for the opening track. Within the first two minutes you get a funky backbeat, slammin' guitar solo, tight jazzy drum work, a Spyro Gyra-ish hook, a quick segue into some Latin flavor, wah-wah guitar, a horn section and a jazz-steeped sax line. That is followed by a lyrical piano solo that gains momentum through a series of key changes and rhythmic changes. Breathtaking! Now we are four minutes in and the ride has just begun. That's how these songs roll – lots of changes, displays of musical virtuosity, a jazz sensibility all wrapped around melodic foundations that create a sense of familiarity, but a familiarity that isn't based on a safety zone. "Wishful Thinking" is elegantly lyrical with a soaring chorus, "Not Unlike That" gets down and dirty around Scott Ambush's slap-funk bass lines, "Sorbet" has Tom Schuman going off on a Fender Rhodes – like excursion, they even venture into chill and groove undercurrents on "Clubhouse Jam" which of course turns into something so much more. Then there is "I Know What You Mingus," kicking off with a blast of straightahead licks from Beckenstein and drummer Lee Pearson and flipping into late night jazz club blues piano which then flips into a cascade of chords and some serious speed riffing from Schuman.
See, how do you describe this? Forget about words. This music doesn't have words. Who needs them. All you need is a copy of the album and either a good set of headphones or a place where you can play it loud. Your reward is the essence of a heritage band and a showcase for the possibilities conteporary jazz has as a genre when seriously gifted musicians get to play it like they feel it.