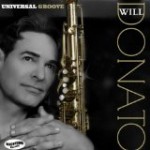 Funky, fierce and energized – that's the Universal Groove that Will Donato is laying down in his fifth solo release. It's a set of songs that will move you from head bobbing to booty shaking before the second track has finished and and have you on your feet and dancing by the middle of the set. Anyone who has seen Donato perform knows he can amp up the power and fire up a crowd. That high octane sound has been hard to come by in studio recordings, especially from those playing in the realm of smooth who were required for so long to tone it down for radio play. The good news here is that nobody playing on this album is holding back. It's not quite as hot as Donato's live sets are – that would melt down every fuse on the mixing board – but it's definitely hot!.
Donato and guitar star/studio wizard Steve Oliver have been collaborating since they scorched the stage together as part of (former Rippingtons percussionist) Steve Reid's Bamboo Forest. They have collaborated a lot since then, writing and playing on each others albums and doing sessions together but this is their official debut as co-producers. They co-wrote six of the eleven songs, Donato wrote one by himself and one with Tyrone Chase. There is also a contribution from Paul "Shilts" Weimar, and there are two covers that are done the way covers should be done.
The covers are a good place to start. Donato is a hard working musician who has been captivating audiences in clubs and on concert stages with funk. jazz, and R&B groups with an unbelievable and consistent performance schedule since his emergence on the scene. He has spent a lot of time playing crowd pleasers like "Play That Funky Music" and "Show and Tell" and honed them into something he totally owns. This is a guy who works the crowd and I'm thinking that in the process of playing these songs live and connecting with the audience he has turned them into Will Donato songs that sound so original that you do a double-take when the chorus kicks in and the recognition lightbulb goes on. Covers handled this way are rare and wonderful. After all, isn't that one of the foundations of jazz – taking a familiar tune, expanding its essence, and turning it to something entirely different but still recognizable. You've never heard either of these songs played like this. 
As for the originals, when the writiers are this skilled and absolutely know how to nail down a hook and a group of skilled players get to go off how could they miss. Oliver, always versatile, delivered some hard fusion with Tom Schuman last year. Now he and Donato get gritty with some deep funk grooves. The title track is soulful and infectious, built around a riff that, to me, sounds like the killer bass line from Rufus' funk classic "You Got The Love." Check out Oliver's guitar chops on the equally funky powerplay "Grand Slam." "Two Can Play At That" has Donato and Shilts trading in-your-face licks powered by a rhythm section featuring star guitarist Randy Jacobs and Bill Steinway on keyboards. Then there is "Double Down," low and dirty and one of the last tracks recorded with the late Ricky Lawson. But it's not all slammin' funky. Oiver and Donato's "Everlasting" is a graceful and elegant ballad that reminds me of "Drowning in Your Eyes" from his debut CD Will Power (an excellent album that didn't get the love it deserved the first time around because big labels and big promotional budgets still ruled the game at the time).
There is some fierce playing on this album. Even the tightest songs give the musicians room to stretch out and blow. Donato just wails, there is no other word to describe it and even when he hits the loudest, highest registers his tone is melodic and clean. Oliver can play anything and does. He also did programming and synths, delivering some sonic surprises and electronic textures in the most unexpected places. Panist/keyboardist Tateng Katindig is a new discovery for me and he is given a lot of space in many of these songs to absolutely tear it up. Most genre fans are familiar with bassist Eddie Reddick, Randy Jacobs (guitar), Tracy Carter (keys) has been on most of Euge Groove's CDs, and of course Ricky Lawson, who played on two tracks. Keyboardists Katindig, Nate Mitchell, Teddy Harmon, and Bill Steinway, Tim George (bass), drummer Patrick Ready, guitarists JJ Sansaverino, Tyrone Chase, and Rick Marcel round out the lineup and deserve the same recognition. These guys are amazing.
There are times when you hear a really hot band, then experience a letdown when you buy a CD after the show and find that it is only a soft shadow of what you just experienced on stage. That's not gonna happen with this one. You can go to the show, buy the album, push play, turn the volume up and take the vibe home. If you can't go to a show you have a real close replica of the experience here. The bonus is that there is not a single throwaway track on the project. It's eleven strong songs powered by stellar musicianship and a lot of love – for the music, the players, and the audience. I hope you get to see Will Donato live, but even if you don't you've got the real thing right here and it's gonna make you feel good.