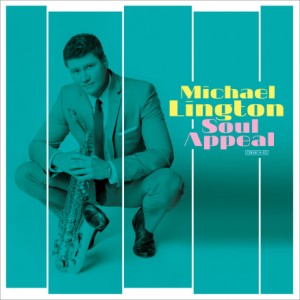 Michael Lington has just released his highly anticipated eighth studio album, which takes on a totally new sound for the sax player.  Soul Appeal, a funky mix of jazz, soul, and a lot of R&B, is a departure from the contemporary jazz/pop that has been the norm for so many years.  This collection really showcases how Lington can cut loose.
For this latest release, Michael has brought on R&B favorites, Kenny Latimore on "Gonna Love You Tonight," and Ryan Shaw on "Leave Me You." This infusion of R&B has really shown where Michael's influences are and brings to mind the days of Memphis blues and soul.  He has really gone completely outside of the box this time with the tone of the whole album.
The title track opens the album and definitely sets the groove, while the uptempo, head-bopping rhythm of "Uptown Groove" will put you either in a dance mood or get you a speeding ticket while driving!  Other tracks, like the suave "Manhattan Nights," the emotional "Going Home," or the groovy "In The Pocket," highlight the diversity of Lington's abilities.
Soul Appeal is the type of album that we need to see more current artists releasing.  It's as far from cookie-cutter contemporary jazz as you can get.