What if I told you about a jazz festival that was committed to showcasing the entire spectrum of jazz music, gave you a chance to see big name stars and discover and fall in love with some artists you may not have heard of before, showcased national, regional, local and student musicians, and would not bust your budget with high priced tickets, amenities, or accommodations. Now, what if I told you it was all about the music. Not golf, wine, food, or see-and-be seen type high end VIP events with a few performances sandwiched in between. The  logistics won't even trip you up – you don't have to buy multiple tickets to multiple venues or separate events or juggle transportation to the different stages. You don't have to buy tickets at all. It's free! Three days and three stages, plus after hours showcases and jams at nearby venues. All free.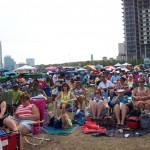 Every year on Memorial Day weekend the streets of downtown Jacksonville, Florida turn into a celebration of all that is jazz, all who love jazz, and everybody who comes down for the street party vibe and didn't know they loved jazz until they heard it live in the most real-people friendly setting imaginable. The Jacksonville Jazz Festival may still be one of the best kept secrets when it comes to national hype but over 100,000 people who came to the party this year know that the best festival, the one that is the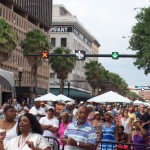 most fun, is right here in Jacksonville. The Jacksonville Jazz Festival is our benchmark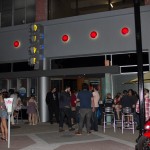 community event. It started in 1980 with planners expecting a small jazzy in the beach community of Mayport but the debut event drew thousands more attendees than expected. Since then it has survived, adapted and thrived through numerous sponsors, producers, promoters, economic booms and busts and the dramatic economic changes in the music industry. I elaborated on this in several other reviews so this time around it's all about JaxJazzFest 2014 because it was one of the best ones we've had. Discovery! Of all the things I love about this festival that may be the most
important one. When the lineup was announced there was the usual amount of grumbling about how some previous year's festival had more big names. Yeah, we got Boney and Jarreau and AWB but who are Ester Rada, Pedrito Martinez and Tizer? The Stooges Brass Band from New Orleans opening for Jarreau? Who dat? Some people knew who Kim Waters, Maysa, Phil Perry, Paul Taylor, and Marion Meadows are but who knew Traces Of Blue? Delfeayo Marsalis and Joey DeFrancesco are familiar names to the straightahead set, as are J.B. Scott and Lisa Kelly if you are from North Florida but they are not as well known as Wynton or Sonny Rollins. It's a holiday weekend, it's a chance to get outdoors and hang out with friends
while you listen to live music for free, and it's a local tradition so you show up even if you don't know the name or if a given color on the jazz spectrum is not your preferred sub-genre. You show up, you listen, and you surprise yourself. You leave adoring people you had never heard of and open to things you thought you didn't like. This year the festival took over a downtown street that runs parallel to the river. There are three stages, two of them bookend the street and a third is in the center of a riverfront shopping and restaurant complex. The main stage is surrounded by a field with plenty of room for fans to set up their lawn chairs and even mini-campsites. Video screens provide a view for people who are end up far from the stage. The other two stages have lots of space for seating, and for standing and dancing. The stages are close enough to make it an easy walk but far enough apart for the sound not to bleed over or crowd the walkways. The walkway between the stages has the atmosphere of a street festival – artists display their work, a select group of vendors sell everything from beautiful clothes and jewelry to wind chimes. There are plenty of food vendors and if you want to
get out of the heat for a while the restaurants and clubs that border the walkway are all open for business. As the last acts wrap up on the main stages Jazz Fest After Dark kicks off with several music venues along the walkway serve up all kinds of music from the cream of the local and regional music scene with no cover charge. Or you can go to the Saturday night Jazz Jam and see big name musicians backing up a jam session that attracts a roster of players ranging from young students to festival performers. Then, as long as you are out of bed before 2pm you can enjoy the spread at the official Jazz Brunch in a lovely hotel ballroom. The festival always kicks off with the Jacksonville Jazz Piano Competition. Five young jazz pianists chosen by audition compete onstage for a cash prize and opportunity to play on the festival's main stage. This is a chance to see future stars in action, previous winners have included Marcus Roberts and Lynn Arrialle. At age 16 Harry Connick Jr. became our most famous runner-up. Festival organizers have held to their commitment of keeping it jazzy but they know we love our R&B too so last year they began the "Off Jazz Concert" with Brian McKnight and Avant. This year it was Musiq Soulchild and Sebastian Miakel. I missed that one because there is so much to take in, so much music to experience, that you would have t clone yourself to do everything on your wish list and that probably won't happen until JazzFest 2025 or so.
Cloning not being an option I made my choices. I saw Ester Rada, Pedrito Martinez group with Ariacne Trujillo, Delfeayo Marsalis Quintet, Stooges Brass Band, Al Jarreau, TIZER featuring Karen Briggs and Sax and The City with Paul Taylor and Marion Meadows. I missed Boney James (I've seen him 14 times, I don't think he missed me), Marcus Johnson, Bobby Caldwell, Average White Band, Joey DeFrancesco Trio and the Latin Jazz All Stars tribute to Dave Valentin. I also missed some strong local and regional bands at one of the festival stages and during the after hours events. A girl's gotta sleep sometimes. Here is my adventure. If you were there please share yours in the comments section.
*************
PART 2 – ONE FAN'S ADVENTURES IN JAZZ LAND

When the lineup is announced I hit YouTube to check out the names I haven't heard. By Festival day one I was psyched to hear Ester Rada. I got off work late and had to run from the parking lot in the heat, in heels. It was worth it. It was worth it. She may be the most original jazz oriented vocalist out there and you could feel hear her music and feel her spirit even before she was in your field of vision. Backed by an incredibly hot band, seven musicians including a three man horn section, she belted, shouted, whispered, and just flat out sang her way around the world with a set of songs from her Ethiopian/Israeli background to shades of influences ranging from Nina Simone to Erykah Badu. She danced around the stage,
jammed vocally, laughed, and cut up with the musicians, all the time never losing the center, her strong, fresh interpretation of every song she sang. The whole set was spirited, joyous, and deep. People in the vicinity of the stage enjoying the merchandise and food booths were drawn to the stage and when she was done they were on their feet and headed for the autograph tent to buy her CD. Ester who? Ester Amazing, that's who! She opened for Boney James, as the throng of people who would enjoy his thrilling and crowd pleasing set made their way to that stage I moved in the opposite direction for a Latin music fix with
The Pedrito Martinez Group featuring keyboardist/vocalist Ariacne Trujillo. Percussionist/vocalist Martinez delivered a blistering percussive set of music that blends New-World funk and Latin dance rhythms with Afro-Cuban Rumba traditions. Keyboardist Aracne Trujillo's jaw dropping jazz chops and clear, soulful unaffected vocals captivated all of us. Everyone was dancing in the street, even the novices imitating the more experienced Latin dancers that gravitated close to the stage. Saturday at the largest stage, aka the Swingin' Stage, it was all about diversity.
The day started straightahead with the winner of the Jacksonville Jazz Piano Competition. A gifted group of young musicians, the Jacksonville University Jazz
Combo 1 followed with a set of traditional jazz pieces and standards that showcased each player as well as their ensemble skills. Delilfeayo Marsalis was a surprise to a lot of us who viewed the Marsalis family of musicians as Serious with a capital S. Yes, these guys were the cream of the crop as far as skills and professionalism are concerned. What was unexpected is how much fun they had onstage. Marsalis kept up a humorous banter that was filled with anecdotes about the history of the music they played, music that covered a lot of turf from New Orleans tradition through, bop, jazz, and a taste of progressive. As the band got deeper into their program they got looser and became more of a party band. Baritone Sax player Roger Lewis was a show stopping highlight when he laid down his funk infused "Dirty Old Man" full of leering double entendres and a
Maceo Parker tribute that amped everyone up. Then we bridged heritage with the essence of now as the Stooges Brass Band took the stage. Stooges alumni Trombone Shorty owned the crowd during the previous two years so this was an in the pocket choice – an aggregation of charismatic young musicians who take New Orleans tradition and spice it up with hip-hop, R&B, jazz, and some left field hits. They did the Jackson Five classic "I Want You Back" and their own take on "Happy," a left field revision of Bruce Chanel's "Hey Baby" and delivered the knockout punch – Chick Corea's "Spain" into Ronnie Laws "Always There." Their rousing set had everyone on their feet and latecomers wishing they hadn't decided to only see people they had heard of. Here's who they had heard of and packed the place to see: Al Jarreau. It was joyous. The picture says it all and there is a separate review, just click here.
Sunday morning opened with Traces of Blue, a 10 member acappella group that was on third season of NBC's "The Sing Off." I hate it that I missed them. The night before, in the area behind the stage, they began singing "Killing Me Softly With His Song" and Al Jarreau joined them. It was one of those magical things that happen when kindred spirits start to sing. If you are on FaceBook you can see the video here. My favorite band that does not involve Pat Metheny is TIZER – keyboardist Lao Tizer's band that includes a core group of musicians and several who play when logistics and tour schedules allow. Today he had his core group – amazing rock guitarist Jeff Kollman, Rufus Philpot on bass, drummer Raul Pineda and (take a breath!) violinist Karen Briggs. You may remember her from those videos when Yanni-mania was peaking. There she was sitting pretty, now she is in full bloom as part of one of the most innovative and boundary-free bands ever. A few years ago a group of us sat in front of the stage and had a one hour musical out-of-body experience as they played. You can read about that here and yes, it happened again. Lao Tizer's amazing musicality, the chemistry between the band members and Briggs debuted a song called "Gravity" from her forthcoming album that breaks every rule in a beautiful way.
When there are multiple stages it is inevitable that two acts you really want to see will be scheduled to play at the same time. Kim Waters, Phil Perry and Maysa were on one stage, Paul Taylor and Marion Meadows Sax and the City were on the other. A Taylor/Meadows mashup was too delicious to miss and you could tell there was a party goin' on by before you were even halfway to the stage. Backed by a hot trio of players including Will Brock on keyboards these guys put of a big fat funky wall of sound that was so energized even the food vendors and security staff couldn't stand still. Both Meadows and Taylor have presence and charisma and they know how to work a crowd. Put both of them on stage and they just raise it up. They played the songs we fans know well, sometimes sharing the stage and sometimes solo, but these versions were bigger, hotter and had the kind of boundless energy that comes when the musicians are on and the audience is in there with them – pure alchemy. This is how we begin the summer in Jacksonville. The weekend is over and we carry lawn chairs, tote bags, sleeping kids and unfinished food back to the parking lots but that's not all we carry. We carry the spirit of the music with us. It
changes you. You may not know how or why but for a few days after you will have this feeling. It's Al Jarreau, or TIZER, or Sax and the City or the Stooges playing in the back of your mind. Musical doors have been opened. You own CDs by people you hadn't heard of three days earlier and you will find yourselfdigging around YouTube or Pandora or Spotify searching for more by the people you saw and the people you missed. Then you start clicking on those sidebars that say "if you like this you will like that too" and the promise of a summer ofmusical discovery is right around the corner. Then you start posting names of artists you have discovered that you want to see next year. You don't have to be an expert, you don't have to be an afficianado, you just have to love what you hear. Real people, real music. That's what the Jacksonville Jazz Festival is all about.
Visit the Jacksonville Jazz Festival Website: www.jaxjazzfest.com
Like them on Facebook www.facebook.com/JacksonvilleJazzFestival
Follow on twitter @JaxJazzFestival

Shannon West