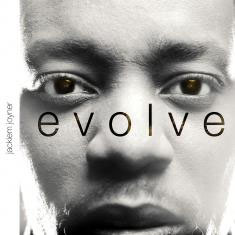 Saxophonist Jackiem Joyner recently released Evolve, his 5th CD. Joyner wrote and produced all 11 songs on his latest project. He calls this CD Evolve because it is a reflection of the musical journey he's been on, and how he and his music have changed over the years.
"Generation Next" is the first single. This opening track is one of my favorites on this CD. It lends itself more on the R&B side than to smooth/contemporary jazz because of the back beat, but when you throw in Joyners' melodic sax, it brings it together to what we love about smooth/contemporary jazz. "Europa" features keyboardist Keiko Matsui, whom Joyner tours with when he's not creating and playing his own music. Joyner's soprano sax, together with a strong bass and Matsui's spirited playing makes this song worth listening to. "Double Bass," as the title implies, features two basses, one played and one programmed, linked together by Joyner's sax. It's an unusual move, but it works. "Breathe" is another one of my favorites on this album. Joyner plays a sublime melody on his sax, accented by a horn section before it transitions and builds to an emotional crescendo. The title song, "Evolve" almost sounds like an anthem of sorts, and, in a way, it is. It is a musical testament to his journey as an artist, where he's been and where he's headed.
"Born to Fly" features some funky guitar licks over Joyner's sax. It's a head bopping mid tempo tune that will get you moving. We are treated to a sweet "Interlude," which sets us up for the next song, the sexy, saxy "Later Tonight," which as the song implies, is something intimate. "See You Through" is a smooth, intimate slower tempo tune as well. While the intimacy of "Later Tonight" is more on the romantic side, "See You Through" takes a different approach.
Gerald Albright joins Jackiem on the soulful "Big Step," one of the best songs on this album. With the two saxophones playing together, and off of each other, and the head bopping bass beat, this song a powerhouse, and finishes on a high note. After all of that, Jackiem tenderly brings us back in and closes it out with "A Gentle Walk on Water."
I've been listening to this CD off and on since it was released a few months back. Each time I play it, I hear different, subtle things that I like about it. I hope people find their way to Evolve because I believe it's worth it. As the summer concert, festival and vacation season heats up be sure to add Evolve to your playlists, and look for Joyner on the road so you can hear all of this goodness live.