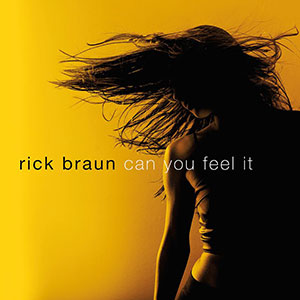 After taking a two album break from the music that has defined the sound of Rick Braun and put him at the top of the trumpet game for so long, the man has returned to the sound we all love. Welcome back, Rick! While it was great to see your versatility, we are glad to hear the music that made us crave you for years…and this time, even better!
Rick has stated in some of his recent interviews that he wanted to get back to the Tower of Power and War sound, with a funky horn sound and tons of energy. I am certain that all listeners will say he has hit the mark.
Rick brings in all his friends, which also happen to be some of the best in the business, from keyboardists Philippe Saisse, Jeff Lorber, and Brian Culbertson to amazing sax players Dave Koz, and Euge Groove. I love when artists also bring in vocalists that you may not expect, or maybe don't really know.  In this case, Rick showcases American Idol contestant Elliott Yamin on the classic, "Take Me To The River."  This is by far, one of the best renditions I've heard.  Although it's a cover tune, it's a stand-out on this album.
The title track is also the lead track and kicks things off in a big way. With a heavy head-boppin' beat, it screams the attitude of this whole project.  "Mallorca," "Get Up And Dance," and "Delta" add to the how can you NOT feel it vibe!  "Another Kind of Blue" brings the level down to a more introspective, romantic mood, while "The Dream" will probably be the one stuck in your head with its catchy melody.  The closing track, "Dr. Funkenstein," kind of says it all.  The horns are on fire and this just leaves you craving more!! I can only imagine how much fun it was to record this track. Rick Braun has been giving us music for over twenty years now.  We have watched him grow, mature, take detours to other musical endeavors, take chances, and dazzle us with his performances and creativity.  He is the complete package.  And when he asks, "Can You Feel It," the answer is a most astounding YES!!!
Bonnie Schendell