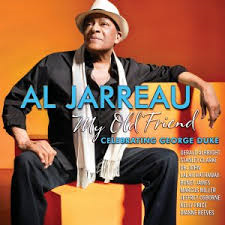 "There are times when you find a piece of music written by somebody else and you just get swept away by what they were saying in the song. Very often what they said in the song inspires you to want to say it in just a little bit of a different way. So you find that essence in you. You look for those corners in you that it is speaking to and there's a kind of marriage of that thing and what they said. And this maybe new approach to it allows you to say it in your way, hopefully with as much meaning as the original artist." Al Jarreau from an interview segment on the Tenderness video – 1994

When a favorite artist comes out with a new release there is always a slight sense of apprehension that it won't live up to expectations – that there will be some missing ingredient and it will be the one that would have set off the magic. I believe we should all wave our fan flags high but I also believe in taking that flag and whacking somebody in the butt with it if they miss their mark. In this case we have Al Jarreau, an artist so many people love, singing songs that were written and originally recorded by George Duke, another much loved artist. And he has gathered a stunningly star studded cast of guest artists to celebrate and perform this music with him. The cover lists some of the most influential contemporary jazz musicians in the last half century. Questions abound: Would the sheer amount of talent in the room overwhelm the songs or shift the focus away from the singer? Would the fact that it is a big name, big label project reel it into that safety zone the industry has built around the assumption that adults don't want to hear anything new or different. The easy default would have been to focus on nostalgic familiarity instead of artistry or sense of adventure.  Take a breath! That's not the case here. Al Jarreau's My Old Friend – Celebrating George Duke doesn't just live up to your best expectations. It goes beyond that. To my ears, and those of some of my music junkie friends, this is some of the best work Jarreau has done since those late 70's releases that long time fans still head back to time and time again. It's that good, that real, and that adventurous.
It made perfect sense for Jarreau to deliver the first George Duke tribute album. They were playing together in jazz clubs long before either of them established their careers, crossed musical paths over the years, and recently resumed their collaboration doing a series of live dates together. It also made perfect sense to enlist some other Old Friends who had worked with and been influenced directly or indirectly by Duke – Stanley Clarke, Marcus Miller, Dianne Reeves (who is also Duke's cousin), Jeffrey Osborne, Gerald Albright, Boney James, Lalah Hathaway, Kelly Price, (let's get gritty now) Dr. John, Patrice Rushen, Paul Jackson Jr., John "JR" Robinson, Lenny Castro, Jubu Smith (YouTube him. Trust me.) and more. If you think the list of players is impressive wait till you hear the songs.
Narrowing the field to ten songs that even started to represent the range of Duke's work had to be a challenge. This is an artist who went from funk to fusion to classical to pop and every space in between without missing a beat. Jarreau and producers John Burk, Stanley Clarke, Marcus Miller, and Boney James nailed it with the selection here. They played the favorites but they also uncovered some gems that didn't get the exposure they deserved and put it all into context with the title track. "My Old Friend" is not a George Duke song but is so significant because deep friendships are a treasure that rarely gets celebrated in song. This new version gives "My Old Friend" a second life, a new audience, and reminds us all that there is more than one kind of love song.
Then we dive into the friendship that is being celebrated here, starting with him and Dianne Reeves scatting and swingin' their way through one of Duke's early R&B tracks, "Someday." He and Hathaway's ultra contemporary reinvention of "Sweet Baby" will have you listening with fresh ears even if you've heard the original on the radio almost to the point of overkill for several decades. There is a sweet dive into the classic Brazilian Love Affair album with "Somebossa," his lyric to "Summer Breezin," and a sizzling mashup of "Brazilian Love Affair" and "Up From The Sea it Arose and Ate Rio In One Swift Bite." Jarreau and Reeves weave their voices around this breezy melody straight into a percussion jam that will leave you breathless and some vocalese that sounds equally breezy and jazzy. Then you realize they are singing about a sea monster that ate Rio – repeating that line over and over again. This was one of the many moments of pure originality that are all over the album. Duke didn't do that on his version- a fusion killer definitely worth backtracking-and his spirit has gotta be laughing at what they pulled off here. "No Rhyme, No Reason" is an anthem. When Duke did it in concert a lot of people in the crowd would be singing every word with him. It's about relationships, commitment, caring and realizing that you can't always be ethical and follow your heart at the same time. Jarreau and Kelly Price's emotive musical conversation turns it into a scene from a movie that doesn't need pictures. "Every Reason To Smile" gets spun from its disco-funk origins into timeless inspiration by Jeffrey Osborne with just a touch of "On The Wings of Love" to underscore the meaning. Boney James' sax is so lyrical in "You Bring Me Joy" and on the other side of the fence Dr. John gets low down the way only he can on the bluesy "You Touch My Brain."
Then there is the OMG Epic stop in your tracks and listen "Churchyheart (Backyard Ritual). The original version was Duke's contribution to Miles Davis' Tutu album, a discovery zone you should step into along with Brazilian Love Affair, which holds up quite deliciously thirtysomething years later. It was the most intriguingly melodic track on the album and Jarreau has written a lyric that adds another dimension to the mood of the song. It is also the most mysterious song he has written since "Alonzo." What does it mean? Whatever you imagine. Fill in the spaces and make it your own. That's what these musicians do throughout this album. They fill these songs with their imagination and artistry and leave parts of themselves in the grooves. They bring out new facets of the songs and of each other. Jarreau himself is finding places in his voice that we haven't heard before. It could be true that we each have our true north, the place where we are most true to ourselves. It's a hard place to find in this noisy landscape, especially when you able to do so much and drawn in many directions. Al Jarreau's Old Friend has turned that north star light on bright and all we have to do is click "buy" then click "play" to make some of that starlight our own.
Discovery zone: Here's a Spotify Playlist of  the original versions of the songs on the album as well as a few other goodies including a song George Duke produced for Dianne Reeves' debut album, some funk and some fusion. And a short video you'll love: