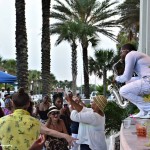 This is how we spend two summer Sunday afternoons in my hometown. We hang out by the ocean or at one of the beachside restaurants and bars. Or we go to church, wrap up the errands and chores, do an early shift at the weekend job, then get in the car and head for the Sea Walk Pavilion – our beach side amphitheatre – for an evening of live contemporary jazz in the most accessible, casual setting imaginable. Some people bring a blanket, some bring lawn chairs, some even bring a crowd and set up canopied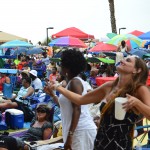 parties in a park to the side.
If you get there early you can plant yourself right in front of the stage because there are no sections cordoned off for VIP's or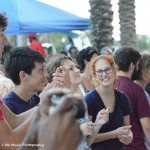 monied ticket holders. You're treated like a VIP because you showed up, so if you want to sit, stand, or dance in front of the stage it's all good. Want to do photos or videos and don't have media credentials. Have at it! Then share them so the event goes viral. Show everybody how much fun we have in FLA!
It was packed on the Sunday evening that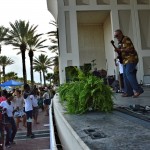 Eric Darius, Urban Jazz Coalition, and local stars Band of Destiny were scheduled to play but I don't think a lot of the people who were chillin' on a Sunday afternoon had any idea what was coming up. They wouldn't know what hit 'em. It was a musical adrenaline high – the kind you get when spectacular showmanship, musicianship and charisma converge with a gathering of people who are in it together. One word. Party! From Band of Destiny's opening notes until Eric Darius's encore took it right up to curfew it was on!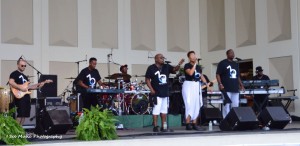 Band of Destiny is a group of local musicians seasoned in church and in touch with the streets. They have won Gospel awards and their music is always infused with Spirit but the main menu is contemporary jazz and urban adult contemporary. They bring a mix of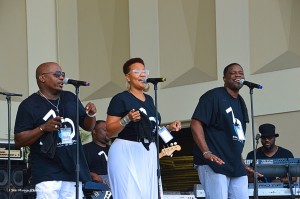 crowd pleasing covers and tasty originals covering jazz, funk, R&B and Church. Audience's attention can wander during opening acts but this group had them standing up with their hands in the air and dancing in front of the stage for the whole set. The touching moment that set up an original song  was one of the vocalists testifying about her recovery from a stroke she had in February. As you can see by the picture, God's got this.
I have seen Urban Jazz Coalition several times, most recently at an indoor venue where they opened for another young cutting edge sax player, Marcus Anderson then backed him. Their set was mellow with a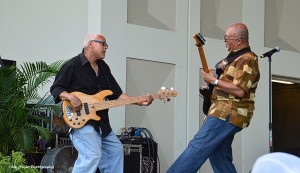 lot of old school flavor then they fired it up when Anderson stepped up front. This time the fired up version was in full effect. This band hits you with a wall of sound – full, big, and clean – that makes you want to move. They gave a tip to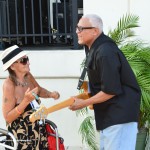 the old school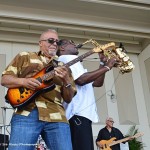 with "Lovely Day" and a sizzling take on "Never Too Much," then flipped to fusion by absolutely killing it the Marcus Miller/David Sanborn gem "Run For Cover," a gutsy choice by Bassist Phil Rainey who was more than up to the challenge. They gave Sanborn's classic "Chicago Song" a contemporary sonic reboot by shifting the rhythm and tempo and previewed several tracks from their forthcoming album including a jazzy funkfest called "#1" and a beautiful romantic ballad, "Be With Me Tonight" that brought all the couples who like to dance close to the front of the stage.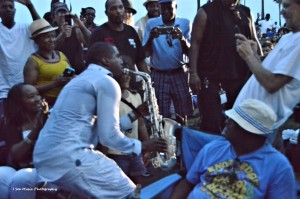 Eric Darius! Words don't do justice describing Eric Darius' performance. Three letters might: O.M.G. When he stepped on stage and played those first notes of the appropriately titled "Let's Go" a wave of energy swept over the crowd and pulled them toward the stage. Lawn chair people leaned forward and others ran toward the front. The mix of powerful sax, amazing skills,  magnetic charisma and pop/rock star sensibility was too much to resist. People who had been lurking outside of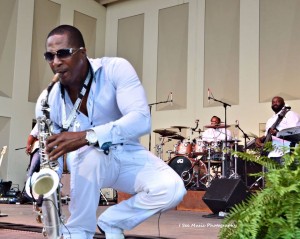 the park area started flowing in and a lot of them were young – in their teens and 20s – and he gave them one of their own with his amped up version of Ne-Yo's smash "Because of You." The reggae groove of "Kingston's Flavor" was a perfect choice for a hot evening by the ocean and his extended take on Alicia Keys' "If I Ain't Got You" had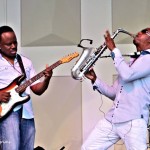 everyone mesmerized. The set wrapped up with a bouncy backtrack to his debut album, "Night On The Town" but we were all on our feet yelling for more and he and the band returned with a version of "Happy" that made the original sound like a ballad. He took that familiar melody and just went off, taking it several notches higher than even his own recorded version.
It was an eight song set but that doesn't mean it was short. He worked the crowd, improvised on sax and gave his incredible group of sidemen plenty of room to stretch out, solo, and generally go off as he moved around the stage either playing with them or giving them the spotlight. Yes, there was showmanship and charisma but the foundation was musicianship. Everyone in that band was supremely skilled and a big element of the showmanship was that skill. Eric Darius can work a crowd but he doesn't pose, strut or talk too much. It's about music and connection. It's this, for an hour. Whew! Wow! :