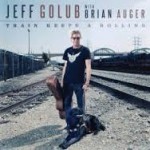 When I was in high school I was the ultimate nerd girl – little bit on the heavy side, thick glasses, hair that frizzed at the slightest touch of humidity which is never a good thing when you live in Florida. Back then there was nothing cool about nerdiness, there were no computers and there was no geek subculture. All it meant was Friday and Saturday nights at home. In my case at home listening to music. I was hanging out at a record store near my house and although the cool guys there were not about to date me they did turn me on to a lot of music. Then our local top 40 station gave me a personal Sunday night retreat – a two hour show called "Underground Circus" that dug deeper into the path that hit singles by bands like the Airplane and the Doors were clearing. That's where I first heard Brian Auger and the Trinity and Auger's Oblivion Express. I was already getting hooked on rock instrumentals and very late in the show the DJ would play one called "Isola Natale" from an album I ended up buying and wearing out the grooves on.
So from there we skip forward a few (few??) decades. I'm listening to Jeff Golub's new one, Train Keeps A Rolling, on my iPod while I walk the dog and out of the blue there is this song that digs a tap root right into my musical DNA. Where do I know that song from? One look at the title and it all comes back. That is the beauty of this collaboration between Golub and Auger. They are keeping the flame alive by creating and revitalizing instrumental music that lives in that territory between progressive rock and jazz. Dropping in some reverence for the roots and making a proud statement for this music's relevance today. This connection is perfectly illustrated by the segue from Auger's "Isola Natale" to the title track, written over 40 years later by Golub and long time collaborator Chris Palmaro. Texturally and sonically similar, both have this prog rock meets jam band vibe that is driven by the sound of Auger's Hammond B3 and Golub's precisely funky guitar jams. There's a lot of interplay in both songs, with Golub and Auger trading licks over a driving backbeat and some power blasts from a four piece horn section. They really get down to business on Auger's other new songwriting contribution, "Shepherds Bush Market", a fierce, raunchy, blues rock showcase that has Golub playing at shred level, the horn section wailing and Auger getting down and dirty. Auger really gets to showcase the gritty side of the B3 and Golub matches the intensity with speedy solos in "J&B." The overall choice of material here is brilliant. There are reinventions of two Auger chestnuts, "Happiness Is Just Around The Bend" and "Whenever You're Ready" that both maintain the flavor of that era without pandering to nostalgia. Their reworking of Curtis Mayfield's moody "Pusherman" (originally on the SuperFly soundtrack) amps up the punchy shifts in the melody line and they play up the atmospherics and reggae undercurrents on Sting's "Walking On The Moon." Oh, and…could an album start out with anything more fun than a flashy take on Lalo Schfrin's "The Cat," which was originally the theme song to a 60's TV spy show called T.H.E. Cat. And just when you think smooth jazz radio totally burned your ears out on Ace's "How Long" Golub and Auger have shined it up and made it sound like new with Christopher Cross (!) handling the vocal.
It's hard for me not to see and hear this album through the ears of a boomer music junkie because these guys all grew up listening to the same stuff my friends and I did, tripping (literally sometimes) from Willie Dixon to Auger to Mayall and Mayfield and digging into those extended instrumental passages with the best headphones we could find. Golub said in the press release that Auger's Closer To It album was pivotal for him, his manager/co-producer Bud Harner is "our age" and undoubtedly grew up with the same sensibility. It was his idea to get Auger and Golub in the studio and I'm thinking that he also had a lot to do with this selection of songs that span the decades and maintain such a sense of eclecticism and relevence. But don't write this off as a "my generation" type of record. This music has a history but these guys are playing right here, right now.. Auger, in his 70's, is still ahead of the curve. Golub has been mixing rock, jazz, blues, and funk since the beginning and come up with this synthesis that is showcased here better than ever. Some music was built to last and to be carried on. With Train Keeps A Rollin' Jeff Golub and Auger have carried the torch into the 21st century and given listeners lots of reasons to keep carrying it forward.