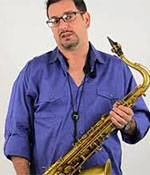 Over the years, Smoothviews has featured many of the Philadelphia areas' most talented musicians. There seems to be an abundance of talent in and around Philly. What are they doing in that city that they keep turning out musical talent? This month, Smoothviews keeps it in Philadelphia to introduce you to saxophonist Chris Farr.
Chris Farr is a staple on the Philadelphia music scene. He came to our attention by way oft the Berks Jazz Festival; Chris was playing in Brian Bromberg's band, as well as in the Midnight Jam Session.
The list of musicians he has played with is impressive, and it includes Gerald Veasley, Jill Scott, Maynard Ferguson, Al Jarreau, The Roots, Kindred the Family Soul, Elvis Costello, Sting, John Legend, Mary J. Blige, Teddy Pendergrass, and the late great Grover Washington, Jr., just to name a few. With a resume as impressive as that, it's no wonder he is such an in demand player.
Chris released an album in 1999 called Common Ground, but there is more to this artist than the music he makes and the other artists he has played with. He is not only a working musician, but a music educator as well. Chris has a B.A. in Jazz Performance and an M.A. in Teaching from the University of the Arts in Philadelphia. For nearly 17 years, he has been on staff at the University – he is an Adjunct Assistant Professor (Jazz Improvisation; Sax; Musicianship) and the Chair of their Sax Department. He knows both sides of the coin; which can only be beneficial to his students. Check out his instructional videos on YouTube.
We look forward to hearing more from this talented saxophone player in the future. And, of course, we'll be looking for him at Berks 2014.