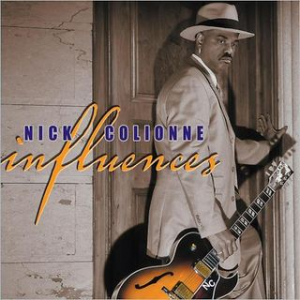 This has been a difficult time for guitarist, Nick Colionne.  As you already know, last November, Nick lost his long time manager and partner, Carol Ray.  Carol lived for Nick's success and devoted her life to making sure he achieved everything he was capable of being.  Nick has achieved all of that…and more.
Through this time of great sadness, Nick continued to create the music we have all come to love so dearly.  And Carol's touch is felt through every note on Nick's latest release, aptly titled, Influences.
From the first notes of the first single released to radio, "Got To Keep Moving," it was obvious that this would be another superb album. This tune set the mood of the project. The CD contains six tracks written and produced by Pieces Of A Dream's, James Lloyd, who has collaborated with many top names in the genre.
Highlights of the album are the cool old time jazz club feel of the smoky "When You Love Somebody," the groovy "Nico's Ride", and most of all, the emotion-riddled track dedicated to Carol Ray, "C-Ray."  "Sting Like A King B" honors the great BB King, and is felt throughout the tune in the same way Nick has always honored Wes Montgomery.  The album continues on with "Whatcha Gonna Do" and kicks into high gear with "Whatta Bout You and "Slammin'."   These are the tracks that will knock your socks off in concert! '
Since Colionne always takes the crowd by storm when he sings, one cannot talk about this CD without focusing on the amazing duet with Maysa on the classic hit, "Born Again."  When a cover song is done, you've got to make it your own or why bother.  Nick and Maysa take this tune to a new level.  It's sultry, seductive, and sexy.
Definitely check out the new music and new show on tour this summer.  And to Nick… Carol is proud once again.