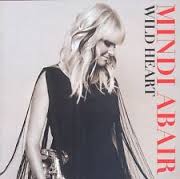 Somebody finally did it. In a world where musicians who have had a taste of airplay chart success seem to feel a gravitational pull toward the soundalike safety zone and excitement has almost become a dirty word, here comes an album that is thoroughly exciting and doesn't sound like anything else out there. Mindi Abair has done it, laying her Wild Heart and scorching sax over a set of rock infused songs that will hold their own on a shelf full of Memphis soul and horn driven rock'n'blues – Delaney and Bonnie, Cold Blood, Rotary Connection, Springsteen, Rolling Stones, all that. And of course it would be Mindi. She's been "Flirt"ing with us all these years, managing to sneak onto smooth jazz radio playlists with songs that were anything but "smooth and relaxing." There have always been songs that showed glimpses of her rock-pop side, especially on her two most recent ones – In Hi-Fi Stereo and Stars – and her live shows come off as a rock band with a sax doing the vocal parts.
The photo on the front of her last album showed her thumbing through a stack of classic vinyl. Jazz titles might be on top but you can bet that stack included The Mar-Keys, Booker T, and Edgar Winter's "Frankenstein." Sax used to be an integral part of rock'n'roll. Go back to Bill Haley then jump to Muscle Shoals and Memphis and the Rolling Stones, then fast forward to Born To Run. That's the origin and the spirit, but what is impressive is she took that thread, turned it instrumental, and yanked it right into 2014. In the process she brought several generations of standard-bearers to the party. Gregg Allman, Booker T., Joe Perry (Aerosmith but did I really need to tell you that), Max Weinberg (Springsteen!), Waddy Wachtel (everybody!) Keb'mo', Trombone Shorty, long time collaborator Matthew Hager, and innovative soul rockers and production trio The Decoders. They are all there delivering what may be the first high profile instrumental oriented rock album in decades.
Wild Heart is one big adrenaline rush. Let's start with the core – there's a song on here called "Kick Ass" and it does. Its centerpiece is a speaker searing guitar passage from Joe Perry. This is arena rock at its best and Abair matches the intensity note-for-note. "Amazing Game," the explosive opener, kicks in with hand claps and drums then fires up a horn section with Abair and Trombone Shorty trading solos. The title track is melodically recognizable Mindi – it has the kind of hook that has been present in all her hits and the deeper tracks – but this time it is bigger, fatter and louder with her riding the lower range of her tenor and baritone saxes. "Haute Sauce" has her playing over an arrangement straight from the sixties surf rock playbook and gives pianist Dave Yanden (Decoders) all the solo room he needs to knock it out of the park. "The Shakedown" teams her with drummer Max Weinberg and guitarist Waddy Wachtel. This multitextured adventure shifts from blaring horns and power chords to a catchy little pop guitar bridge in the middle. Throughout you can actually feel Weinberg's backbeat, even on lousy speakers or flea market headphones.
You do get to catch your breath. This album is a well paced mix of speed rockers, midtempo jams, and ballads. Take "Kiddo's Revenge" – her powerful alto wraps around a sneaky repetitive, bass/drum line in this slow burner with some notes in the background that will turn your head, "Addicted To You," the bluesy instrumental co-written with Booker T. Jones, is a slow groove – organic as they come with Booker T on B3. There are ballads too, some of them vocals. "I'll Be Your Home" is a sensitive collaboration with Keb'mo' and "Just Say When" has her singing harmony with Gregg Allman over more of that grand B3 sound. She holds her own vocally in this start studded milieu too. Christine McVie proved that you don't have to be a big belter to hold your own in a blues rock band. It's a matter of presence and heart, being fully in the song and in tune with who you are singing with and who you are singing to. She's got that down and she's added some gritty nuance and a touch of nastiness on the vocal side (under the influence of a certain Mr. Tyler perhaps?) but what really amazes is the power and range of her sax playing. She plays alto, baritone and tenor here and she can make them scream and wail, get all in your face, or get low down and dirty. She always stood out in a field of shimmering, sleek smoothies because her tone had a raw edge to it. It sounded refreshing there and here it is beyond perfect.
It's not surprising that she would be the genre-busting pioneer that decided to rock it. She has played the field since her bar band days. Jazz, blues, rock, pop, she has played it and absorbed all kinds of influences along the way and it all led to this – a set of songs that are pure fun to listen to. It is impossible to sit still when this is playing and there are jaw dropping "wow" moments all over the place. This is a blast of fresh noise that could shatter the surface of smooth. Mindi Abair has given us a door-opening gift here. Wild spirit. Wild Heart. Shannon West