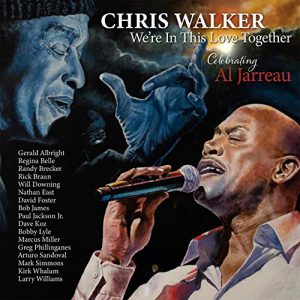 OK.. I can see your eyes glaze over at the mention of a tribute album. More remakes of familiar songs to feed the boomer nostalgia market and a radio format that thrives on re-spins of what has already been done. So yes, even as a die-hard Jarreauniac who went to over 40 concerts and saw Chris Walker killing it with his magnificent voice on his solos multiple times I approached this one tentatively. Would it just be a walk down memory lane by some musicians who had been there the first time and could certainly recreate an era and a mood? Would it sound so much like the originals that it just made you want to listen to the originals? So I hit play during an especially slow moving drive home from work. Walker sang the first line of "Mornin'" with only a keyboard behind him and the goosebumps showed up. Then on "touch the face of God" he hit the high note with such clarity, power and dynamics that I almost drove into the car in front of me.
This is not your everyday tribute album. This one is not about "back in the day." Chris Walker, co-producer Larry Williams and the impressive group of musicians who gathered around them have brought new life, relevance and a 21st century sensibility to songs that Al Jarreau originally wrote or chose to record because he connected with them artistically and emotionally. These songs are unique, deep, and timeless. Setting them in ultra-contemporary arangements and using technologies that did not exist when the originals were recorded sheds new light on them. The presence of just enough vocal Jarreau-isms and instrumental benchmarks from the original arrangements keeps them true to the heart and will bring major grins to fans whose lives were soundtracked by these songs.
Walker spent 20 years making music on stage and in the studio with Al Jarreau. With his expressive voice and powerful range he was already getting recognition as an urban contemporary vocalist. Spending all that time with with Jarreau as his mentor pushed his growing edge into adventurously challenging territory and this is what we get. Imaginative expansive takes on a brilliantly curated set of songs. Obviously the radio hits are here but my favorites are the ones where he brings his own spin. He turns "Agua De Beber" into an a cappella joyride with multiple layers of harmonies, vocal percussion and handclaps. It sounds like he has Take 6, Bobby Mc Ferrin and Pentatonix all in the same room but every voice and sound on the song is his. "Not Like This" has always been one of the most uniquely structured songs out there. It is more like a theatrical monologue set to music than a traditionally structured song. Jarreau's recording was contemplative with a gorgeous keyboard and string synth backing. Walker and arranger Gil Goldstein came up with an edgier take. The new instrumentation – accordion, flute, and bass clarinet – sounds oddly like a string quartet. The dissonant chords they weave through his expressive interpretation put you right in the emotional center of the song. "Spain" and "Alonzo" are two of the most challenging songs in the Jarreau songbook. Walker bravely steps into this territory and illuminates both of them with his vocal range and ability to nail the nuance. He's supported by musicians who have stayed true to the originals in places but taken a different path in others to give him space to spread his wings. This really shows up and shows off in "Take Five" too. It starts out Jarreau-ish with some vocal effects and instrumental interplay, staying true to form at the beginning. As the song builds he steps into his own voice and transforms it into a power play with the band burning it up behind him. What better way to honor his mentor than to pick up that thread of unpredictability that was Jarreau's trademark by cutting loose and being spontaneous – riding that connection with a song that you have played so often it is in your bones. The result is euphoric!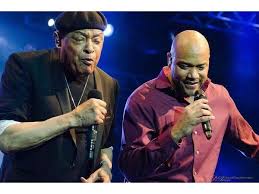 Turning "We're in this Love Together" into a duet with Regina Belle injecting a sassy jazz swing to the mix reimagines the song. In "We Got By" Walker and Will Downing trade lines and verses turning it into a shared story It is thrilling to hear an update on "I Will Be Here For You", we need more songs about friendship and this is one of the most eloquent ever, "Breakin Away" and "Save Me" especially benefit from new arrangements and fired up solos. Jerry Hey's legendary horn section packs a punch in "Save Me" and Randy Brecker's trumpet solo takes it over the top. Larry Williams' keyboards solo on "Breakin Away'" puts a new jazzy spin on an old favorite. Bottom line: every song on this album is like a gemstone that has been lovingly placed in a new setting that makes it reflect the light a little differently, but also a little the same. Wrapping up the set are two originals, both pure tributes. "Phenomenon" has the groove and retro keyboard sound of those early 80's Jarreau tracks. "Jarreau," is a catchy bossa nova/samba instrumental that has Walker's layerd vocals chanting "Jarreau, Jarreau, Al Jarreau" like a mantra. In the last Smoothviews Interview we did Jarreau spoke of how much he and George Duke loved this style of music when he talked about "Somebossa" from the George Duke tribute album. Both these songs are total earworms. I painted my entire kitchen singing parts of these two songs to myself. They will get stuck in your head like that.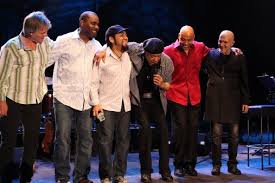 The album was co-produced by Walker and Larry Williams, who recorded and performed with Jarreau for over 40 years. The musicians who shared the stage with him over the last decade or so play prominent roles here: Besides vocals Walker is the bassist and arranger, Williams plays keyboard and also did a lot of the arrangements, Drummer Mark Simmons, guitarist John Calderon, percussionist Arno Lucas round out the core group and they even got guitarist/uper-producer Jay Graydon who produced those epic early 80s albums to play guitar on a track. The guest list is a contemporary jazz who's who: Marcus Miller, Arturo Sandoval, Randy Brecker, Jerry Hey, Chuck Findley, David Foster, Rohn Lawrence, Kirk Whalum, Rick Braun, Paul Jackson Jr., Nathan East, Bob James, Dave Koz…and more. The majority of these songs were recorded live and hearing a full band playing with concert level presence is thrilling. So many recordings now are stripped down to one or two live musicians and computer generated accompnaiment that it takes your ears to another dimension. Especially when the musicianship is of this caliber. Listen to the solos, let the percussion move you, let the bass shake your earbuds (but not to loudly, I have to interject in the name of ear safety..but OK, you got that little red warning on your screen. Crank it up anyway). Enjoy being front and center.
This album started with a vision and an act of faith. He crowdfunded it on Kickstarter – the "do or die" platform where you get no funding if you don't meet your goal in a specific time frame. 50k is a lofty goal for a crowdfunding project and people came through. From there updates traced the progress of the project. The amazing list of contributors coming on board, videos from the studio during the recording. There were some delays but the wait was worth it. The result raises the bar for contemporary jazz vocals as he continues to raise the bar for himself. He had some urban adult contemporary hits before. Vocally he was already ahead of the curve for that genre but they were mostly…well..safe. The spark really started to ignite when we saw his solo take on "Human Nature" during Jarreau concerts. This, then is where the spark turns to fireworks. For Chris Walker this is just the beginning. .He was handed a legacy and a big part of that legacy is to take the amazing gift he has and keep growing, keep exploring, keep pushing the boundaries and play fearlessly. With this project he is well on his way.

Reviewed by Shannon West